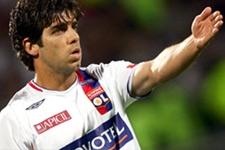 Reactions after the match between Lorient and OL.
Jean-Michel Aulas: The fixture had us playing 2 successive away games.
It's a disappointment. This Lorient side posed us a lot of problems.
We mustn't be melodramatic. It's the start of the league season and we had a lot of players out of action and we haven't had a chance yet to fully integrate our replacements. Things will progressively get back to normal. The impending derby will give us a chance to get things back on track. We have to accept this defeat and analyse it to be able to get back on track. I have no major concerns. Tonight, Lorient was a bit stronger than us. They play fast and well and are a great side to watch at the moment.
We have requested a special dispensation for a 4th non-EU player to replace Cris, and it was granted us. Also, Juninho received his dual citizenship yesterday, so we have 2 places for non-EU players should the need arise.

Christian Gourcuff: It was a huge performance. The quality of our match makes me very happy. When you have nights like this, they are highlights of the season. Tonight had everything: excellent team play and some brilliant moves. We couldn't have hoped for more.

Juninho: It's only our 3rd match. A tough start to the season like this could be exactly what we need to galvanise our team spirit. We have 35 matches left and we're a quality side. We need to concentrate on our season now and get over the injuries to Greg and Cris. We have to claw our way back.
In the last few seasons, we were very strong away from home. But now we have slightly less confidence on the ball and we're in the process of developing our understandings, which takes time. Losing hurts but it's not the end of the world. We still have a lot to do, and currently we're lacking a benchmark. Generally, our spirits were good and we made a big effort. Physically we were fine. We have to bounce back next Sunday (against Saint-Etienne).

Alain Perrin: Everyone is very disappointed. We felt we had a good handle on our situation. But we were surprised by the extraordinary goal from Vahirua. We came back by playing a coherent game. In the second half, we were on top of things but we confused speed with haste and we got caught on the counter. We fought hard after that but we weren't thinking clearly… we have to get back to work.
Also, we very early on lost an offensive player who had dynamised our front line (Ben Arfa). At half time, I took Keita off because he was showing signs of nerves. I didn't want to finish the match with 10 men.

Vahirua: OL is a good side for me to play at the moment. Tonight, we pulled off a magnificent victory, and we'll make the absolute most of it. August is setting the tome for our season, so we gave it everything we had.