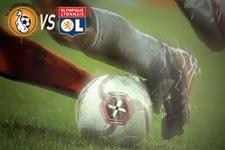 After the catastrophic scenario against Toulouse, OL is headed to Morbihan for a tricky encounter with a Lorient side still undefeated after 3 rounds. But what will OL do if they come home empty-handed?
In the space of a week, a replacement for Cris hasn't been found and nor has the extra striker that Alain Perrin has been looking for or a reserve goalkeeper. Wiltord isn't playing but is still under contract with the club. Müller is yet to return to training. Govou won't be taking any risks after the scare at Toulouse. And Kim Källström will be serving a one-match suspension after being sent off last week. All this limits Alain Perrin's options, who is also without the services of Fred, who has a broken foot and a desire to leave the club.

So there will be no new faces or returns to the squad; but there will be changes to the starting XI and a bit more youth on the bench. Also, there will be a choice to be made between a 4-4-2 or a 4-3-3 formation and some game time for rested players such as Clercand Ben Arfa… Squillaci-Bodmer will take care of central defence. And Juninho has had a week of training to get back to form. An in-form Juni, with perhaps a decisive goal in a stadium where he has never scored before and against a keeper he has never beaten, would do the team no end of good. And while the start to the season hasn't been a rosy one, is there really a need yet to speak of an impending crisis? It would seem too early at this point…

Lorient is doing well. 7 points in 3 matches, 2 of which were away from home. Christian Gourcuff's side should be almost unchanged, making the most of well-established understandings; in-form Tahitian striker Vahirua, who has set up 4 of the side's 5 goals this season; the clinical finishing of Saïfi (3 goals); and of the fine link-up play of midfielder Abriel who has played 41 consecutive L1 matches in their entirety… And one mustn't forget that this good start has been made without the services of injured defender Marchal. Lorient won't win the league, nor will it be in the top 3… but such a good start will have banished pessimistic thoughts and freed up the team's game. The club has a small budget of €23m, the smallest in L1, but the team has big plans and a demanding, competent and experienced manager.

"A great team never loses twice in a row… the knack is to bounce back." You remember Gérard Houllier's favourite saying. In the league, OL has only once proven its former manager wrong – in Toulouse on January 13 2007, then against Bordeaux on January 24… At the Moustoir, OL has won every one of its 3 visits. Given the current circumstances, OL would do anything for the 3 points ahead of the derby against St-Etienne next week.