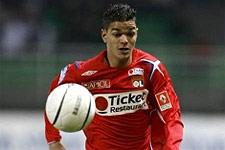 It would take a lot more to unsettle Hatem Ben Arfa. ON Saturday August 11 in Toulouse, OL tasted its first defeat o the season.
"It's under control," assures the OL attacker. "Even though we're never happy to lose, whether we're on top of the table or propping it up. We've prepared well this week. We're ready for Saturday."

Due to Lens' participation in UEFA Cup qualifiers (tonight against Young Boys of Bern), OL has had a full week to prepare for its second successive away game, in Lorient. "We'll approach this match in the best possible way," he predicts. "We'll be looking to win again to get our confidence back as quickly as possible. We won't have any pressure on us. Lorient is a good side but I think we can win there. You can never afford to lose twice in a row."

The OL striker believes that the series of injuries suffered by the club have reinforced, if it was necessary, the motivation of the 6-time French champions. "The club will bounce back," he says. "We lost Cris and Grég (Coupet), 2 major players, but we'll get a result in Lorient in their honour."

Little used since the beginning of the season (he played 24 minutes in the Trophée des Champions and then 23 minutes when Auxerre visited), he may well take advantage of Sidney Govou's injury to return to the left flank he often occupied in the pre-season. "Hatem will have game time ," assured Alain Perrin.

A decision that doesn't displease the man from the Ile de France. "I'm dying to play and to burst back on the scene. When you're competitive, you always want to play, because it's what makes you happy. Since our return from Korea, I haven't started a match. Sure, I was disappointed, but that's the manager's decision. I've been patient for 3 years, and no-one can say that my impatience is unreasonable any more. I need to play."

Impatient but clear-headed, he admits he still needs to improve in every areas of his game. "But there are so many great players at the club that I can only improve here ».