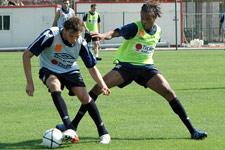 21 players took part in today's morning training session. Fred, Cris, Coupet, Govou and Müller didn't take part.
After doing some laps, the outfield players did some warm-up passing exercises while the keepers worked with Joël Bats.
After an exercise in moving the ball around, they played a match on a half-pitch. The session finished with some stretching.
Injuries:
Fred
has an injured foot.
Patrick Müller
is suffering from a small strain to his ACL and a slight tear of his exterior medial ligament (sustained in training on August 10)
Grégory Coupet
has torn the internal medial ligament in his left knee, strained his PCL and there is instability in his meniscus. He will be out for 4 months (training on August 2).
Cris
ruptured his ACL and his external medial ligament. He will be out for 6 months (Toulouse-OL August 11).
Sidney Govou
has injured his left thigh. He had an MRI on Monday August 13 (Toulouse-OL on August 11).
Check out daily life at OL here:
TOLA VOLOGE.