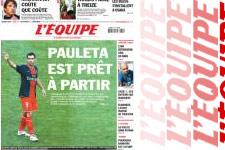 The daily papers and the specialist sports publications are all talking about one thing: the injury sustained by CRIS…
[IMG41308#L]Starting with l'EQUIPE… even though the sports daily's headline deals with PAULETA's desire to leave PSG. There is an article on Cris featuring the crestfallen face of the Brazilian who should be back and playing for Lyon in… March. The paper notes that an MRI revealed 2 ruptured knee ligaments. Then follows speculation about who could be brought in to replace the Policeman: Yepes, Heinze, Boumsong and a host of others…

In Aujourd'hui en France, CRIS KO, OL is in dire straits. Alain Perrin is quoted: "We can't afford to bring in an average player."

[IMG41305#L]Le Progrès illustrates the defender's absence with a photo of him on a gurney: "OL: CRIS KNOCKED DOWN!' Antoine Osana informs us that CRIS wants to have his surgery in Sao Paulo this Friday. AS a consequence, the trip to Brazil will be closely monitored to avoid phlebitis.

[IMG41304#L]And in France Foot: "LYON, QUESTIONS OVER A CHAMPION". The fortnightly poses the question, "Hit by a series of injuries to major players, Olympique Lyonnais, who lost at the Stadium in Toulouse, hasn't lost this early in the season for some years. Is the situation serious?"

The paper features a cover photo of OL's bugbear, the Swede Elmander, who scored the winning goal on Saturday. The article talks about the Champions League and TFC's preliminary match against Liverpool.