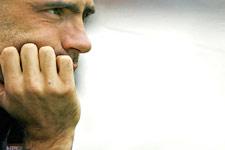 In the space of one week, OL has lost 2 of its cornerstones for a duration of several months. Cris has just joined Grégory Coupet in the treatment rooms…
Cris Marques Gomes has played 102 L1 matches and 39 other official matches for OL. That's 141 out of a possible 158 matches since his arrival in the capital of the Gauls! Even though previously he has twice been forced to leave the field early through injury, against Monaco at Gerland on September 10, 2005, and against PSV at half time on February 21, neither time was the injury very serious. His other absences? Suspensions, a late start after the World Cup and when rested for matches where nothing was at stake.

In Toulouse for his 142nd match, he went down and stayed down. His knee had bent awkwardly in a clash with Elmander that should never have happened. It seems the Swedes were in the thick of all the action in the TFC-OL clash…

This time, a protective mask wasn't a possibility for the Policeman, who bounced back from the broken nose suffered against PSV at the Philips Stadion to play against Rennes 4 days later. Cris left the Stadium on a gurney knowing in his heart that the injury was pretty serious. With all due respect to the rest of the squad, one has to wonder how the 6-time French champions will get through the absence of their captain who has scored 16 goals, including 8 headers.

Cris has always been in the starting XI… 142 times in fact. He has played 135 matches in their entirety! He has played on the left and the right of central defence and has had 8 different partners: Müller (24 times), Cacapa (58 times), Squillaci (30 times), Abidal (8 times), Diatta (13 times), Essien (12 times), Monsoreau (2 times) and Bodmer (1 time). The man is, quite simply, a Monument like "Greg" Coupet. And OL will have to do without him for several months. "We were happy… and we didn't know it…." These words were spoken by the Brazilian himself on the morning of Coupet's injury… now they can be repeated, this time to say, "Courage Cris".