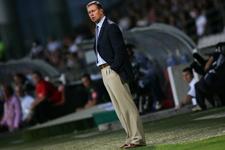 Alain Perrin analyses his team's defeat to Toulouse. "It was a poor day for OL," he recognises. But there's no question of getting despondent; the OL manager notes that "it's in this kind of defeat that a team really comes together".
How do you see the defeat to Toulouse?
It was an unusual match. It was like the elements were against us. I'm disappointed for the players who, at 10 men to 11, were forced to try to save a point. Make no mistake, they made a huge effort, and it didn't pay off. We lost a point at the death because nothing was going our way. When you have 2 injuries, 1 man sent off and one pulling out the night before, well might you think it's a bad day for OL.

Have you tried to cheer the players up?
No. I didn't need to in terms of the content of the match during the first 35 minutes, which was very promising and coherent. The team wasn't in any danger. Faced with a TFC side that began the match very dynamically, we controlled things rather well. Even when we went down to 10 men, we held on and created some chances on the counter. It's disappointing to have your first loss of the campaign so early but it was an exceptional situation. It won't stop us from continuing to work hard.

What worries you more? The defeat or the injuries?
Defeat is always a possibility, no matter where you are. Our opponents are high quality and can play really strong matches. The most dramatic thing was the sending off and the injuries to Cris and Govou.

What's your position on Källström's red card?
Kim put us in a tough situation. He blew a fuse. When you take a knock like that and it goes unpunished, you have a feeling of injustice. The card is incontestable, because the player had a reaction that he shouldn't have. But he had let things go before that point; had they been sanctioned earlier he wouldn't have had the reaction he had. At the highest level, you have to able to absorb frustration; at the same time, the player deserves a break because he was under pressure, he was the victim of an elbow to the face and had the reaction he had. 9 times out of 10, Kim will react positively. It's happened to other players before him.

[IMG42424#R]Is there any news on Cris?
He had a terrible night, he's in some serious pain. He's pretty pessimistic and feeling bad. We need to do more precise examinations to find out the exact nature of the injury and the projected length of his absence. If he is to be out of action for 2 or 3 months, we will be looking at some serious defensive problems. We're very happy with how Mathieu Bodmer is playing, both against Toulouse and in the Peace Cup. From what I've seen of his natural abilities and his reading of the game, I think I can keep playing him there. We're lucky to have him. But quantitatively, we're looking a bit fragile, and we need to keep a careful eye on the situation. We have a squad that can deal with injuries, but touch wood the run of injuries will stop now.

To replace Cris, the name of Sochaux's N'Daw has been mentioned. Is this a possibility?
It seems it would be very, very complicated. I believe that, in certain squads, there are players who stay on the bench regularly but who could get the job done.

How will this defeat affect the squad?
It's the manager's role to make the best out of a defeat. It's also through defeat that you learn and come together as a squad. We'll have to knuckle down to see what can be improved and to see what lessons there are to be learned from such a defeat. We have to get back on top of things next week against Lorient, on the road again. We won't brood about it, and we'll bounce back. There are always tough moments and also euphoric ones at a football club. Starting with some difficulties doesn't bother me; in fact it could well do us good. It's easy to do this job when you're winning and it's all laughs. In adversity, I really get going, because you think hard, you look for solutions. Difficulty excites me.

Cris and Grégory Coupet are 2 important figures in the locker room. Do you think their injuries could affect the mentality of the squad?
We're not on the back foot. We have players like Squillaci, Govou and Juninho. We have character in spades.

Fir this trip to Toulouse, you modified your game plan somewhat. Did it work as you had planned?
It worked for 35 minutes, rather well in fact, even though there are still some adjustments to make. We had a coherent system that allowed us to control the pressure from TFC. We had planned to, at some stage, revert to a 4-4-2 in order to save Juninho, who doesn't have 90 minutes in him just yet. When you make substitutions because of injuries, you have fewer options with the changes that follow. Juninho put in a good performance considering the form he is in. He held on to the end, and at the final whistle he was exhausted. The positive is that this match helped him regain some form.

Has the profile of the keeper you want to recruit progressed at all?
No. We know we'll be recruiting a keeper, due to Grég's injury. Rémy Vercoutre's performances have been satisfying. We're just looking for his understudy.

When will Fred be ready to play?
It's very hard to say. His return depends on how fast his bones knit. Everyone is different in that respect.