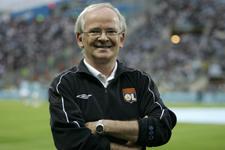 Reactions after the match between Toulouse and OL.
Karim Benzema: We started well but then we were hit hard when Kim Källström was sent off. We just have to get back on track and think about our next match against Lorient. We're disappointed because we played a good match and then conceded at the death. Playing 10 men against 11 is really tough.

Rémy Vercoutre: It's a tough scene. We were really courageous, a man down against a TFC side looking to hit the comeback trail. We tried not to pull back too much, but that's tough when you're missing a player. It's infuriating and sad. Up to the point when Kim was sent off, we were well in place and playing well. But the send-off tipped the scales and then they were slightly lucky with their goal.
Now, we'll dig in.
Personally, I need to find my rhythm and understanding with my defence. There's work to do.

Christophe Galtier: In central defence, we're going through all our options. It started with Sébastien Squillaci, then continued with Patrick Müller at training yesterday. I hope we get our players back soon. I'm pretty pessimistic about Cris's knee. There is a lot of concern.
We were expecting a tough, hard-fought match. Before Kim's sending off, the team was doing very well and causing problems for TFC. The sending off was the turning point in the match.

Elie Baup: After our opening-round defeat to Valenciennes, we needed to present a united front.
To get the 3 points against a side like OL is huge even though it cost a lot of energy and effort.

Jean-Jacques Amprino (OL doctor): Sidney Govou felt something in his left thigh, so we took him off as a precaution. He'll have an MRI tomorrow.
As for Cris, the knee hyper-extended. There is some looseness there, a bit of play in the external medial ligament and maybe some damage to the cruciate ligament. We can't confirm it but it's possible there has been a serious trauma to the joint. Only the MRI can give us a more precise picture.

Alain Perrin: It all started yesterday with Patrick Müller's injury. It was a problematic scenario. It's a huge disappointment. The players feel like they were beaten by only the slightest of margins.
We have to turn the page now and think about the Lorient match, which we have to win on the road to make up for the points we lost tonight.
It's a shame because we were playing well. We were in control of the match until Kim was sent off.

Matthieu Bodmer: Leaving with nothing is tough. It's a huge disappointment, a shame because we were playing well. We controlled play. Kim's sending off seemed severe to me. Tonight we didn't even get a point so we'll have to try to make up for that next week against Lorient. It's a bad day. You can't feel satisfied when you lose 1-0 like that.
Personally it went well. When you play with quality players like Cris, it's that much easier. With Toto (Squillaci), it also went well but then we conceded in the dying minutes.

Jérémy Mathieu: This gives us more confidence ahead of our match against Liverpool.
The send-off was the turning point in the match. With 11 versus 10, it was a lot easier for us to play.

Bryan Bergougnoux: We're happy because we worked really hard for the start of the season but it wasn't paying off. We were missing some drive and the will to win. For my former team-mates, it was a bit tough. For me, playing against OL is always special. I hope they have a good season.