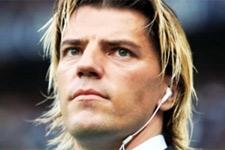 Operated on by Professor Moyen on August 6 for a ruptured knee ligament, Grégory Coupet will probably be out of action for 4 months. This morning, after his treatment session, the OL keeper spoke.
How was your stay in hospital?
Marvellously well except for the post-op pain. Professor Moyen was awesome. All in all, the result is rather good.

What is your programme?
The toughest thing to accept is having to just calm down, let the swelling subside and give my body some time to recover so I don't injure myself again. I have to go slowly, get the joint moving but gently enough so that the scars form the right way. I can already bend the knee to 60° but any further is dangerous. At the moment I'm doing some joint mobility and electro stimulation to make sure my quads don't waste away.

How long do you think you'll be out?
The healing takes 2 months. I can't make it happen any faster. In the other 2 months, I'll work as hard as I can to make up for lost time. What'll really help is the environment, my team-mates… honestly, I'm not that worried. The drive is there. What I'm really missing is a chance to get moving and break a sweat.

Are you afraid of not being able to get back to 100%?
No. Not at all. I've injured my knee before and with the help of the staff, there will be no problems.

How are you spending your time?
I'll be behind the French rugby team 200%. I'll be watching the World Cup (laughs). It'll be tough to watch OL play tomorrow.

Did you see Rémy Vercoutre this morning in the locker room?
I saw him. I wished him good luck and told him not to freak out. Jo (Joël Bats) is there. All the players trust him. He shouldn't be doubting himself.