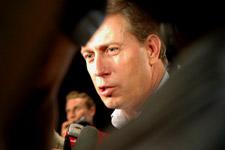 For the trip to the Stadium in Toulouse on Saturday at 17:10, Alain Perrin has called up a squad of 18 players. Toto Squillaci will play in the CFA this weekend. Sylvain Wiltord won't make the trip either. The OL manager discusses Saturday's match.
What kind of squad are you taking to Toulouse ?
There are still a few uncertainties but on the whole it'll be the same squad that did well against Auxerre. That gives us continuity and a chance to further establish our patterns of play as well as some valuable game time. For the moment there are no changes as we haven't played many games and there is no need to rotate the squad as yet.
You will be on the road for the next 2 matches and then there is the derby against Saint-Etienne. This start to the season is a rather interesting one…
Yes. No matter who we're playing, we know that they're waiting for us and that it will be a tough match. The match against Lens has been brought forward, which complicates our calendar a bit that happens, just like having to play 2 games on the road in a row. At Lyon, with the ambitions we have, if you want to win the title, you have to win points away from home. We'll see how solid the team is on the road. In Toulouse it will be a full-scale test. TFC is a team that caused us some problems last season and were capable of beating us. So we have to be wary. If we're not up to the Toulouse's level mentally, our chances of winning aren't as strong.

Vercoutre, Hartock, Belhadj, Grosso, Cris, Müller, Réveillère, Clerc, Toulalan, Santos, Juninho, Källström, Bodmer, Ben Arfa, Govou, Keita, Benzema, Baros.
Will this match give you a chance to include Juninho in your system of play?
Yes. The quicker he joins the squad, the quicker he will find form. We'll see how he's feeling after training tomorrow. I really want to give him some game time. Anyway, the players need to get used to being rested or sitting on the bench in order for the other players to find their rhythm. Soon we'll be in a phase where we need to manage players' game time and the team's resources.
Will including him force you to revert to a 4-3-3?
No. We'll keep using the 4-4-2, it's gone well for us so far and we're getting used to it. But we could be forced to change the formation at some point in order to adapt to our opposition. As for Juninho's role in the system, there are several possibilities. It'll depend on who is playing around him. But this is all stuff we're working on in training every day. He can also play on the left. I haven't yet made any firm decisions about a first-choice line-up – I have some ideas but we have to see how they work out.
Before the match against Auxerre, you were adamant about players getting back to defend. What point will you be focusing on against Toulouse?
We're still working on our defensive game and our liveliness. We still have room for improvement. In Toulouse, it will be a mental battle rather than a tactical one. Last season, we were pushed around by an aggressive Toulouse outfit, so we need to respond on that level. The outcome will be interesting for me because we're beginning to prepare for some very intense high-level matches in the Champions League. This match will be a real test for us.
[IMG42396#L]
A word on the strength of this Toulouse side. Johan Elmander was in doubt, but trained normally yesterday. We know what he means to his team…
We know the importance he has in Toulouse's system due to his athletic presence and his individual qualities. He can turn the game at any time and we'll have to watch him very closely. Around him there are lads like Emana, Dieuze and Matthieu who are also capable of posing us problems. There is a lot of talent in the side and I'm wary of their spirit. I know Elie Baup very well. He is very good at building up his players, of giving them courage and confidence.
You're coming up against TFC after a defeat and before a Champions League match. Is this a good time to take them on?
They'll be looking to bounce back, that's for sure. Also, the challenge of playing Lyon will give them a chance to prepare for their Champions League preliminary against Liverpool. I'm expecting a very hostile welcome from them and their fans at the Stadium.
The Wiltord sags seems to have been put on hold. Do you have any news about him?
No. For the moment he's still here. We'll wait and see; there are still a few days before the transfer window closes. His situation has been rather hazy so wasn't in the running for a place in the squad for Saturday. It's too hard to fit him in and it's not worth the risking of his picking up an injury. So he's on standby and as such he's not in the squad. Mentally, he's not in a position to be thrown into the thick of things; his head is elsewhere. He's still under contract with us and I have no problem with his staying. He may well be the attacker we're looking for. At any rate, physically, he is ready.
How is the search for a new striker going?
Right now there are no deals underway. We want a quality player but there are none who are out of contract. Maybe there will be an opportunity at the end of the transfer window.
Concerning William Borgues?
It's an investment in the future. Immediately putting pressure on a young player would be unwise. At any rate, the club is trying to secure his signature.