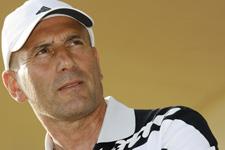 Last season the Toulousains snatched a top-3 finish by the skin of their teeth. Before contesting the 3rd preliminary round of the Champions League, they will host the six-time French champions after their spanking at the hands of Valenciennes…
Les Violets did not shine in their round 1 match – they lost 3-1 in Valenciennes. Their captain, Dieuze, did his side's scoring with a shot from outside the area. The Valenciennois Audel scored the 3 for his side, including 1 header.

3 new recruits played: Gignac, who came on early for an injured Elmander; Ilunga and Jönsson. That's 1 attacker and 2 defenders. On the bench was substitute keeper Rudy Riou who kept goals for Istres in 2006-07. TFC will for the next few weeks have to do without the services of Arribagé and Congré, 2 important elements in their defensive set up. The last recruit, Argentine Mauro Cetto, was suspended.

Notable departures include Aubey (Lens) and Bonnet (Sedan)…

The club's manager is still Elie Baup, who is in his second season in charge of TFC. With 415 L1 matches under his belt, he is ranked 2nd among the L1 managers… a respectable distance behind Guy Roux (891).

In their last 10 league encounters at the Stadium between TFC and OL, goals have been at something of a premium. 6 for the Toulousains and 7 for the Lyonnais. Only once have both sides scored at least a goal in the same match: 1-1 in 2000-01 (Bonilla/Anderson). Last season, TFC beat OL 2-0 (Elmander/Emana) when the Olympiens had won the last 3 matches there. 4 if you count a Coupe de France victory (2-1) in 2004-05 with goals from Wiltord and Diarra and 1 for Dalmat.

Even though there were no transfers between the clubs this summer, no-one has forgotten that Christophe Galtier, one of Alain Perrin's assistants, spent 3 seasons at TFC as a player. From 1990 to 1993. He played 83 D1 matches there out of his total of 291.

Just after hosting Lyon, TFC will host Liverpool in the 3rd preliminary round of the Champions League. A victory would be a real boost for Douchez and co if they want to join OL in the group phase of the competition.