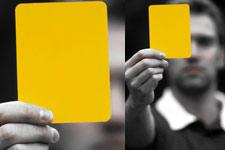 Mr Olivier Thual will be the match referee for TFC-OL. At 31, this teacher is already an international…
Only Anthony Gautier, born in 1977, is younger than him in L1. This young man, from the Aquitaine League, is already an international. He officiated over OL's matches 4 times last season: OL 2-0 Troyes, Rennes 1-0 OL, OL 1-1 Nice and Nancy 0-3 OL. He handed out 8 yellow cards to Olympiens (Baros 2, Cris 1, Juninho 1, Tiago 1, Müller 1, Abidal 1 and Diarra 1) and 1 red (Juninho at Rennes). In 2005-2006, he refereed OL 1-0 Sochaux and Troyes 0-1 OL; 5 yellow cards: Tiago, Govou, Clément, Juninho and Tiago. In 2004-2005, OL 4-0 Caen.

In 2006-2007, he refereed only 1 TFC match: Toulouse 3-1 Sedan (yellow card to Aubey).