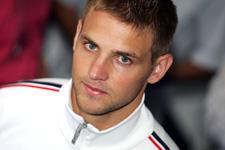 Matthieu Bodmer played the final 24 minutes of the Trophée des Champions and then stayed on the bench for the match against Auxerre. He discusses the 'healthy competition' he has found at OL. The former Lille man isn't surprised: "I came here for a fresh start."
How have your first weeks been at Olympique Lyonnais ?
It's all going well. I was warmly welcomed by the squad and I am integrating well. On the field and in the locker room, I have been welcomed.

What differences have you noticed between LOSC and OL?
There is a bit more pressure at OL. Here, you have to win every match. Even when you win 1- or 2-0, like against Auxerre, you can always do more, trying to score as many goals as possible.

What's the competition like at OL?
It's healthy. We all get along well. I came here for this kind of competition. And I got it, too: up until now, I haven't played much in official matches; there is no problem. I will give my all to win a place. If I had wanted to play every match, I would have stayed at Lille. I came here to win a place, start afresh, take a good look at myself and change my status.

How's it going?
For the moment rather well because, as it's the start of the season, but in 3 or 4 months, if I haven't played much, I would give another response. I knew it would be difficult; there are only internationals here. It's up to me to impress enough to be on the field on the weekend.

Have you given yourself a deadline?
I'm used to playing 30-35 matches per season. It'll be hard in 3 or 4 months if I haven't played much. But there are many games in a season, and sooner or late the squad will rotate somewhat and I just need to be ready.

Have you had a talk with Alain Perrin ?
No. For the moment, I don't need any explanation for his choices, I find them logical and coherent. I just have to change his mind a bit, but for the moment, patience. I always give 100% in training, I give and show my best at all times, that I can bring a lot to the side. At the moment our record is 2 wins from 2 official matches. You don't change a winning team so the choices have been very logical.

How did you find the first match?
Good although it's tough not to be playing. You have no influence on the match when you're sitting on the bench. You try to encourage everyone and watch how the team plays and how the squad experiences each match. Sitting on the bench isn't a waste of time.

What's your prediction for the match against Toulouse?
It'll be tough because they were just beaten by Valenciennes. They have an important Champions League match coming up against Liverpool. So they'll want to have a big game to bolster their confidence ahead of the Champions League.