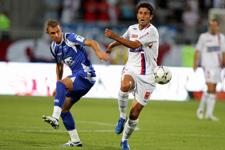 Reactions after the match between OL and Auxerre.
Anthony Réveillère: We really wanted to start the season well, especially against Auxerre at home, a really well-organised team that's good on the counter.
Just like a week ago in the Trophée des Champions and before that the Peace Cup. It's important to us do well in every competition.
We put in a good performance. We were really waiting for the security of that second goal.
Personally, it's a relief. After I extended my contract, I knew I was in a way starting all over again. I feel good at Lyon. I want to have a huge season, be it a right- or left-back.

Christophe Galtier: It was important to start the league well. The first match is never an easy thing to negotiate. Auxerre is a well-organised team that caused us some trouble.
We deserved the win; we conceded very few chances and no goals at all. They rarely pushed us back very far; our defensive bloc was in fine form and the players stuck to our organizational system. Both our strikers scored. Milan's goal? He deserved it. It's important for him because his efforts paid off.
Even though we can't win everything, the desire was there; even though we lacked a bit of rhythm and freshness and could have won the ball back sooner than we did.

Fabio Grosso: It was really important to start with a win. The match was tough, like all our league matches will be, because we're the team to beat.
The most important thing tonight was the 3 points.
Concerning my game, I'm pushing up a fair bit. That's one of my qualities but I'm also a good defender.

Cris: A win is always good but there are still 37 matches left. Auxerre is a good team.
The 4-4-2 is a different kind of system from 4-3-3. We need some time. From a personal point of view, it's true I prefer to play on the right of the defence but it's the manager's decision.
It's great to be captain of a really strong team like OL but there are lots of leaders in the squad. It doesn't really change anything for me. I just happen to be the one who shakes the referee's hand.

Rémy Vercoutre: We're off to a great start in the league, we played very responsible and controlled things well. Now everyone knows we're a force to be reckoned with this season. Tonight it was important not to concede, it's great for the confidence.
When you're a keeper at OL, you know you won't touch too many balls but you have to step up when the time comes.
The squad is still a really tight unit and we're in great spirits. Everyone's ready psychologically and physically we'll be there very soon.
The fans were great tonight. It's excellent to know we can count on them.

Alain Perrin: Any champion team relies heavily on its defence – and every player is implicated in that. We need to work on winning the ball back more quickly to improve our attacking passages of play. Sometimes the team cuts itself in half somewhat and we have to find a way to prevent that. It'll come with time.
Tonight the players showed a real desire and a preparedness to throw themselves into even the most thankless and inglorious tasks. Kader (Keita), Sid (Govou) and Karim (Benzema), for example, got back and defended well all night long. Concerning Rémy (Vercoutre), I'm not surprised. I see him all the time in training. Tonight, he was faultless. It's good for his confidence.
Milan? I'm happy for him he wasn't so pleased with his preparation. This goal is pay-off for his hard work and self-sacrifice.
We're already thinking ahead to Toulouse, who copped a hiding yesterday, and they'll be working hard for the match against us. It's up to us to keep up the good work.
We have 2 games on the road and then Saint-Etienne. That's why it was so important for us to start well.

Check out all the reactions on video at OLWEB PREMIUM.