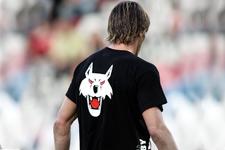 Grégory Coupet this afternoon had an MRI that revealed a rupture of the internal medial ligament in his left knee, a small strain to the posterior and instability in the meniscus.
He will be operated on by Professeur Bernard MOYEN at the Lyon-Sud Hospital.

Grégory Coupet's absence is estimated at 4 months: two months of recovery and then two months of physical rehabilitation.

Since his arrival at Olympique Lyonnais, Grégory Coupet has missed 15 French league matches due to injury.

In season 2003-04, an injury to his right hand sustained during a Champions League match against Real Sociedad forced him to miss three L1 matches.

In 2004-05, he missed 7 league matches after injuring his right knee against Fenerbahce in the Champions League.

Last season, two injuries kept him from playing in 5 L1 matches: one to the hand and the other a thigh muscle problem.