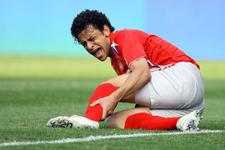 Sylvain WILTORD, suffering this morning from digestive problems, didn't take part this afternoon in the training session on field 10 at Plaine des Jeux de Gerland. He trained instead alongside Nadir BELHADJ.

FRED had several x-rays this afternoon and tomorrow will undergo bone scintigraphy . FRED will be examined by Professeur Bernard MOYEN before the end of the week.

Sébastien SQUILLACI this afternoon an MRI that confirmed his recovery from an ankle injury.