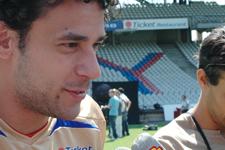 On crutches and sporting a splint to stop his ankle moving, Fred returned to Gerland for the official team photo this morning. Between Fabio Santos and Cris, the Brazil striker was the last player to take the pitch.
How are you feeling?
It's good to be back but I need time to recover. I need 10 to 14 days with this splint on before I can resume training. I hope to play my first match in September.

Was it really important to go to Brazil for treatment?
Yes. It allowed me to stay close to my family and friends.

Will you meet with President Jean-Michel Aulas?
Yes. I have to iron out a small problem with him, so I can stay in Lyon and calmly get on with my recovery.

Are you still motivated by the idea of playing for Lyon?
Yes. This season and in seasons to come. I'm confident. I'm happy at Lyon and I hope to stay.

How did your team-mates welcome you back?
They threw a party in the locker room. It's great to see everyone again and I can't wait to play with them again. It's up to me to work hard and recover.

Did you talk with Alain Perrin this morning?
Yes. A little. He is a great manager who won the Coupe de France with Sochaux.



« "I'm happy at Lyon" »



What are your goals this season? Will you miss to many games to be in the running for league top scorer?
No. It's not too late but my main goal is to get over this fracture so I can get on with playing here.

So far this season OL has played with 2 strikers. How do you feel about this formation?
It's awesome! It's great for the strikers, we won't have to play all alone up front any more.