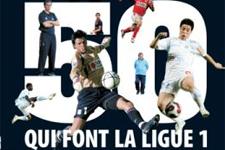 France Football's Tuesday July 31 issue includes a list of "50 Ligue 1 movers and shakers". The fortnightly publication gives its ideas on who will light up the championship this season.
A top 50 of players and football figures of all kinds (clubs, league, television) that includes 8 Lyonnais. OL is the best-represented club in this respect, followed by OM, which counts 5 representatives.

[IMG42379#L]After Franck Ribéry, last season's number one mover and shaker, Grégory Coupet this season gained 3 places, jumping to 1st. According to Laurent Campistron, the Les Bleus keeper is "the last of the dinosaurs", the only France player to play his league football in France, "an exception in a ruthless world where the best French players desert Ligue 1 to seek fortune and glory in the Champions League in Europe's biggest clubs".
This top ranking is recompense for "an example of loyalty to his club, a rare find in the current climate". France Football notes that should OL win the league again this season, Coupet could equal the record for French league titles jointly held by ex-St-Etienne players Jean-Michel Larqué and Hervé Revelli.

[IMG42380#L]The second Lyonnais on the list is also used to winning awards. Juninho dropped 3 places to 5th this year. He could also equal Larqué and Revelli's record this season, and would be the first foreigner to do so.

[IMG42381#L]OL President Jean-Michel Aulas follows the Brazilian in 6th place. France Football notes that he "still dreams of a European title and plans to distinguish himself in Europe, having just become in May the President of the G14". He was ranked 6th last season as well.

[IMG42382#L]Karim Benzema makes his top 50 debut in 13th place. "He is France's most up-and-coming striker," affirms France Football, which also notes that the newly capped international is also "making a strong case for an incontestable starting place in the OL line-up". The publication also wonders whether Benzema will be in the running for the title of L1 top scorer this season.

[IMG42383#L]Olympique Lyonnais manager Alain Perrin also makes his top 50 debut this season. He is ranked 17th.

[IMG42384#L]Cris, "the best defender in the French league", is ranked 21st. "Cris love Lyon and vice-versa," notes France Football.

[IMG42385#L]Newly arrived in L1, Fabio Grosso landed in 25th place. "His experience at the highest level will help Lyon to get past the departures of Abidal, Malouda and Tiago."

[IMG42386#L]Just one Lyonnais figures in the second half of the list: Hatem Ben Arfa is ranked 32nd. France Football wonders whether this could be his year.

[IMG42387#L]Among the others ranked in the Top 50, Alou Diarra (Bordeaux) is 48th, Daniel Bilalian (France Télévisions) is 44th, Gignac (Toulouse) 34th, Lloris (Nice) 33rd, Le Guen (PSG) 21st, Albert Emon (OM) 19th, Bertrand Layec (referee) 14th and Elmander (Toulouse) is 11th.

The Top 10: 1. Coupet
2. Nasri (OM)
3. Laurent Blanc (Bordeaux)
4. Djibril Cissé (OM)
5. Juninho
6. Jean-Michel Aulas
7. Frédéric Thiriez (LFP)
8. Bertrand Méheut (Canal+)
9. Guy Roux (Lens)
10. Pauleta (PSG)

[IMG42389#L]The biggest jump this season Is Djibril Cissé, who vaulted a massive 22 places to 4th.
[IMG42390#L]The biggest drop is Jean Fernandez, who during season 2006-07 went from Marseille to Auxerre. He lost 32 places.
[IMG42388#L]Samir Nasri made the highest debut, going directly to 2nd place.