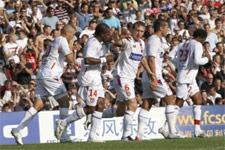 All the reactions from the Lyonnais after their victory over FC Sochaux.
Cris: It was great. We played a good match, everyone understood what the manager wanted. We didn't start so well but things got better. We conceded but it didn't destabilise us.
My goal? Karim's header forced the goalie to punch the ball away and into my path. All I had to do was tap it in. Physically we're doing well. All we need is some more matches.
The captain's armband? I'm happy. It's great to be the captain in a team of such good players. First match, first goal, first win and first trophy as captain… it's been a good day.

Christophe Galtier: The 4-4-2 worked well in attack but gave us some trouble in defence, so we've got some adjustments to make. Sochaux played well. Their midfield caused us problems. But the positive for us was that we created a lot of chances.

Matthieu Bodmer: We had a really good match. We conceded early but the team bounced back. Then we took control. We came here for the trophy, and it's an important one, the first of the season. Personally, I feel really good at Gerland. The fans are really behind their team.

Anthony Réveillère: I played the Peace Cup final and the game against Lille at left-back as well, and I'm getting used to it. I'll play in any position for OL, it's always a pleasure.
The manager asked us to have a lot of movement in our game. We wanted to put on a show and follow up on our win in the Peace Cup by winning an official match. Now we're looking to get a good start to the season. Against Auxerre it won't be easy but we're confident.

Alain Perrin: Tonight, things got serious. The win is important for our credibility, for the change of formation. We started well but went behind after 15 minutes. We got back into it and the better team won. Sochaux gave us some trouble but I'm happy with out game. After only 4 weeks of preparation, it's amazing what the players are capable of.

Grégory Coupet: It's good. We were good. We weren't perfect but we did our best to follow the manager's instructions and we created a lot of chances. These 2 trophies (the Peace Cup and Trophée des champions) might seem inconsequential, but they have done us a lot of good. A cup double in 2 weeks – not bad!

Jean-Michel Aulas: I'm happy with the win and seeing our fans happy. I'm happy for Alain and all the staff because the first matches are crucial and so far, we've won them all.
We have to stay humble though, every good start is followed by a lull. Let's not forget we lost in the Coupe de la Ligue to Bordeaux through smugness.
As for Reyes, we'll see him in Sevilla on Monday but his goal is to play for a Spanish club, so we are handicapped in that respect. Real Madrid is also after him, so our chances are slim, but we have other irons in the fire. We're looking in Brazil. Any players we sign will be of the highest quality.
As for Sylvain Wiltord, he hasn't made his mind up yet. If he wants to, he can go. The choice is his.
At Rennes, he will have 2 years on his contract and then 2 years of vocational training. I'll be stunned if he doesn't take it but if he doesn't then that's bad luck for him.