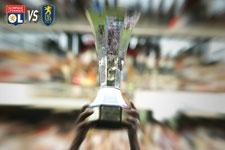 For the last 5 seasons, OL's season has begun with photos featuring the Trophée des Champions in the front row. Why change such a good habit, especially when playing at home…
The 18 Olympiens for OL-Sochaux: Coupet, Vercoutre, Clerc, Cris, Réveillère, Müller, Paillot, Grosso, Bodmer, Toulalan, Källström, Fabio Santos, Ben Arfa, Govou, Keita, Benzema, Baros and Rémy.

After 26 days' preparation, 5 friendly matches (4 wins and a loss), the sextuple French champions are back in official competition, as usual over the last 5 seasons, a week ahead of the majority of French clubs. And yes, OL has developed some strong habits during its reign as champion. For example, winning the trophy that's up for grabs against the Coupe de France winner. Lorient, PSG (twice) and Auxerre (twice) have sometimes given the Olympiens a hard time without ever being able to stop them from lifting the trophy once again.

As in 2003 and 2006, Coupet and co will contest this trophy at Gerland. A week before the season opener against Auxerre… on the same pitch. "It's an official match with a real trophy at stake…" Alain Perrin will take his place on his new bench for the first time with the ambition of doing as well as his predecessors, but without pressure, according to him. OL has already shown some real promise despite the change of manager; the change to the formation; the departure of certain key players; the absence of Fred, Juninho, Squillaci, Grosso; the arrival of new faces; 2 or 3 unsanctioned inquiries and the hot weather, which could shake things up on Saturday if it stays this hot.

OL isn't 100% yet but seems to be headed towards a very solid and handsome, not to mention winning, style. The pre-season matches allowed Alain Perrin to successfully trial a 4-4-2. The only blotch on the record so far is a lack of solid finishing.

[IMG42355#R]For Sochaux's visit, the native of Lure will have to do without the services of Fred, Squillaci and Belhadj (injured); Juninho is still on the comeback trail. He won't start Fabio Grosso, but should give him some game time. Kader Keita would seem to be the only new recruit to start the match. Cris is back in the squad after a small muscle niggle on the Korean trip, and should wear the captain's armband.

As for Sochaux, where Frédéric Hantz replaced Alain Perrin, their preparatory matches (1 win, 3 draws and 1 loss) have given the former Le Mans manager to assimilate new guys Mathis, Dalmat, Jokic… while finding a way to replace departed wide players Ziani and Leroy. Unfortunately the captain Bréchet is still injured, along with Lionel Mathis (ankle), Dagano (knee), while Daf and Tosic are on the comeback trail and N'Daw is suspended. "The squad is solid. We worked really hard on our 2 training camps. The Trophée des Champions? It's a good match to play. It'll be a double feat if we win the trophy against OL at their home ground. We won't be favourites for this match. There's plenty of motivation when facing OL, especially when there is a trophy at stake." Goalkeeper Teddy Richert, adjudged the best keeper in L1 last season, has the talent to play a big part in the exploit of which he speaks. He will be FCSM captain this season.

A sixth Trophée will be up for grabs – and OL just needs to maintain its good habits to win the trophy and remind all of France that nothing will change in season 2007-08.