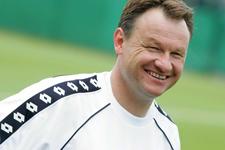 Sochaux has made some big changes to the team that won the Coupe de France and finished 7th in the league last season…
The Sochaliens didn't make their planned trip to China. They had training camps at Seloncourt and Petit Kohlberg, training at home and 5 friendly matches: 3 draws (Legia Warsaw 0-0), Shakhtar Donetsk (1-1), Grenoble (0-0); 1 win (Rapid Bucharest 2-1) and a loss to Besançon 4-2. Birsa scored 2 goals while Erding, Quercia and Isabey each scored 1.

During the summer, the Doubistes lost management pair Alain Perrin/Christophe Galtier, whom they will face on Saturday. Frédéric Hantz took over from Perrin. His assistant is Alain Bénédet. Jacques Crevoisier is their sporting coordinator. Sochaux president Plessis has a tough time hanging onto his managers. While Jean Fernandez (99-2002) and Guy Lacombe (2002-2005) each had 3 seasons, Dominique Bijotat (2005-2006) and Alain Perrin (2006-2007) only stayed 12 months.

The coaches have left, just like Ziani, Leroy, Brunel, Lonfat, Potillon, Diawara and Le Tallec… But not all these departures had the same consequences. It'll be tough to replace Ziani (36 L1 matches, 8 goals and 4 assists) and Leroy (30 matches, 3 goals and 1 assist); their different qualities bringing much to the side in which Alain Perrin had them playing on the flanks.

Auxerrois Mathis has arrived to lend his force to the Doubs just like Stéphane Dalmat, little used at Bordeaux (13 matches, 0 goals and 2 assists). Not much is known about the Slovenian Jokic. Lastly, Maurice-Belay just signed for the club after playing 30 matches for Sedan (3 assists).

Alain Perrin put in place a 4-4-2 formation, the system favoured by Frédéric Hantz. The former Le Mans manager has to replace Ziani and Leroy on the flanks. Dalmat, Isabey, Birsa and Maurice-Belay are vying for places. As for the rest, other than Mathis in midfield, the fans should see a pretty similar line-up taking the field on Saturday as played last season, notably the captain, Bréchet, currently injured, keeper Richert, N'Daw, Sène and Pichot…The defence is, for example, the same as last season: 15th in L1 last season with 48 goals conceded, while the attack finished the season in 5th place. The side is reputed for its fair play; it finished second just behind Lorient last season in this respect. FCSM begins the league season with a trip to PSG.