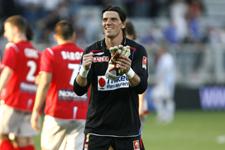 Grégory Coupet discusses the training camp in South Korea and the Peace Cup that OL won for the first time. "Starting the season with a trophy is important," he reveals. He also discusses OL's ambitions and the Trophée des Champions against Sochaux.
How do you feel physically after your trip to Korea?
I'm still a bit jetlagged; but we started the season wit ha trophy, which is important. Even though we had a lot of injuries, we made it in the end. We worked hard physically and mentally. But there is still a lot for work for the squad to do. The manager is working hard to put his stamp on the squad. Some players, like Grosso, need to develop understandings with the rest of the team. But the squad is in good shape.

Is OL ready for the Trophée des Champions?
We're not 100% yet. On top of Grosso, Cris is injured. Juni hasn't rejoined the squad yet. There are still details to iron out but the squad will be competitive on Saturday.

You made some important stops in the Peace Cup. Do you feel ready?
The camp at Tignes got me into shape physically. Things went well for me, and it was good to feel in such good form so soon. I hope it continues.

In the absence of Cris and Toto Squillaci, what did you think of OL's central defensive options?
They were top-shelf. It's tough at their level to communicate and dictate play. But they used their technical and physical prowess to take care of business. Their presence did the team a lot of good.

Alain Perrin seems to have opted for a 4-4-2 system. What do you think?
In attack, we have some really impactful players. So far, the system seems to be working well. We're playing some good, winning football. I think the OL fans will appreciate it. If we can repeat on Saturday the way we played in the Peace Cup, it'll be awesome for our fans. The system doesn't bother me. As long as I have my two central defenders and two wing-backs, I'm fine.

There were some departures this season. Does that make you nervous?
It always makes you nervous. We lost some high-quality players but they have been for the most part replaced by excellent players. Time will tell.

What are OL's ambitions this season?
Rebuilding the squad. Going after another title. And why not another national Cup for a double? This season in the Champions League, it's a bit soon even though everything goes really fast. We lost some very experienced players of great quality, and now our squad is much younger. We won the Peace Cup, something we never did before. So maybe the squad is more talented now, but the tough thing is the long term; it's to handle the pressure all season long, just digging in when the critics start to bite. It's tougher to do that at 19 than it is at 25.

You seem to be wary in terms of European ambition. Why is that?
I have to admit that the defeat to Roma was a pretty big blow. Don't forget that OL is a young club. Taking on the giants of Europe isn't the easiest of things to do. So we approach the competition with modesty but also ambition.

Is there a lot of pressure on you ahead of the Trophée des Champions, a competition you have always won?
when you play for Lyon, you're always under pressure. There are no matches we don't play to win. It's a "pressure" match. The manager will really want to beat Sochaux. We want to put on a good show. In the Peace Cup, we showed a lot of enthusiasm and created a lot of chances. I hope the Trophée des Champions turns out the same way.