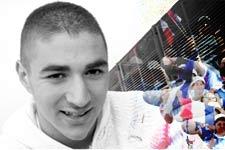 After being chosen as the best player in the Peace Cup, Karim Benzema discusses OL's pre-season as well as the formation and his personal ambitions.
How was your pre-season in Tignes and then South Korea?
In Tignes, we had a good training camp doing a lot of physical work with Robert Duverne. Like every year, we did bike riding, which is great for your legs. Personally, I feel good with an excellent team and some outstanding new players. In Korea, we had a good tournament.

How do Alain Perrin's training sessions differ from those of Gérard Houllier?
It's kind of the same as with our tactics. We changed to 4-4-2, and the manager talks about it often, sometimes even dedicating a whole session to it. He gives us advice, and we're there to learn. The system doesn't bother me; for the two up front, it's even easier than playing 4-3-3.

On a personal level, you seem to be fit and raring to go.
For sure. In Korea, I was in fine form. But as I often say, it was the whole team that was in good form. If I end up scoring, that's thanks to midfield and the defence. I have a lot of work to do and hope to give my best all season long. I've been with the professional squad for 3-4 years now, I'm no longer the kid from the youth academy. I know everyone and we're down for whatever. I just have to keep it up and give my best every match. This season, I want to do better than last time around, when I had a lot of injuries. This year I have to go the distance and play important games in order to win the championship.