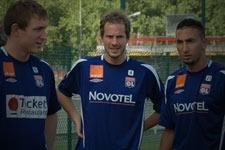 After the training camps in Tignes and South Korea, Patrick Müller talks about the state of the OL squad. A few days out from the Trophée des Champions against Sochaux, the Swiss international says he "can't wait to get back into competition".
How was training this afternoon?
Good. The weather's nice for our return after one and a half days off that gave us some time to spend with the family. It's good to see the lads back here at Tola Vologe, this is home for us.

How do you feel physically? Have you recovered from the trip to Korea?
We're not 100% yet. It'll take a few more days but it's going well. We're in the Trophée des Champions and we're going to play to win. On top of that, it's at home and when you play for Lyon, you want to win trophies. I can't wait to get back into competition. The training camps all went really fast and in Korea, even though it was a friendly tournament, we wanted to win it as we had never done so before. Now the first day of the season is getting closer. We're getting stuck into it."

How was your experience of the tournament in Korea?
There were some very positive points. We won the Peace Cup and we played some good matches and some promising football. In terms of morale, it was positive. It was important to lift a trophy together. Our quality of play, with all our new players, also counted for a lot. But it was a long trip and the temperature wasn't the same as in Lyon. So it'll take us a few days to recover, but we have everything we need here to recover quickly and well. I played all the matches in Korea, that's why I didn't finish the final. I had to be careful because Toto (Squillaci)and Cris are both injured. But we had some other solutions. There are no worries.

You ended up playing alongside Sandy Paillot and Matthieu Bodmer in central defence. What did you think?
We have a lot of polyvalent players in our squad who can adapt to different positions and systems. Mathieu Bodmer adapted very well to the new position, it was like he had already played there. He is technically at ease, his placement is good and he anticipates, headers and tackles well. Sandy (Paillot) was also really good. He made some crucial challenges when he came on – he is as good on the ball as he is off it.

You've been working with Alain Perrin for a few weeks. What has he brought to the club?
He changed the formation to 4-4-2. It's taking a little while to get used to it and to play it fluently. In Korea, the system worked well for us.

Does Alain Perrin have a coaching trademark?
Training sessions are really long (laughs). I think that's because there is a match to win and a trophy to lift. His training sessions are interesting and enjoyable. In Korea and Tignes, we saw some tactical changes because they were friendly matches. We still have some adjustments to make as the system is new to us.

Concerning the French league, many say it will be much tighter this season than in the recent past. What do you think?
The longer OL is at the top, the more the others want to beat us. And more so as this is our 6th year on top – everyone wants to bring us down, so we have to be tougher than in other years.

In your opinion, who are your biggest rivals?
Any team playing in the league.

Are you thinking about Euro 2008 in Austria and Switzerland yet?
Not at all. I just want to give my all without thinking about that, to bring something to the team when I'm called on. Just to be part of the squad.