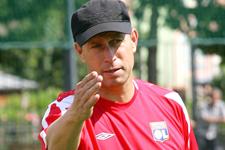 Despite the problems, OL will largely draw positives from its time in Korea at Peace Cup 2007… over and above its win in the final…
Finally, the Lyonnais did it. In their 3rd final at World Cup Stadium in Seoul in the 3 participations in the 3rd edition of the competition, they lifted the trophy. The numbers: 3 wins and 1 loss; 6 goals scored (Benzema 2, Källström 2, Mounier 1 and Ben Arfa 1) and 2 conceded. 21 of 24 available players were used in the competition. Fabio Grosso (injured), Hartock (3rd keeper) and Wiltord (not eligible) didn't play. Müller and Belhadj started all 4 games.

"It's in adversity that a team is forged…" The words of President Jean-Michel Aulas, manager Alain Perrin, the staff and the players are very clear to anyone who followed the tournament. 10,000km in a plane to South Korea (Seoul and Busan), arduous car journeys in crawling traffic. Jetlag and no time to recuperate before the fist match in Busan against Shimizu (the day after their arrival) and only 43 hours between the last group game against River Plate and the final against Bolton; the Englishmen having more than twice that length in which to recover. Preparatory physical training to be done just after the training camp in Tignes, requiring training on the same day as the matches against Shimizu and Reading.

In matters non-logistical, there was also the toll taken by matches and training sessions: Cris, Squillaci, Toulalan and Fabio Grosso all picked up injuries and had to miss the rest of the tournament, with the exception of Toulalan, who was rested for a match. Not to mention the plantar fascia injury picked up by Milan Baros, who sat out several training sessions to receive treatment.

Also, Sylvain Wiltord wasn't eligible to play in the competition and Alou Diarra left the team for new club Bordeaux. He didn't start against River Plate and missed the final.

There were also the cases of Anthony Réveillère and Kader Keita. The Match referee for the game against River Plate refused them entry to the game on account of the plastic arm protection they were both wearing. The medical staff was forced to find another solution for the final.

Let's not forget too that OL went to Korea without injured Brazilians Juninho and Fred. Let's also not forget that OL began this tournament not only with a host of new players but with a new coaching pair. Alain Perrin seemed to decide on a preferred formation, using the same one in all 4 games: le 4-4-2.

All these factors didn't make things easy for Alain Perrin, who was forced to review his rotation and substitution policy. He also had to solve his central defensive problem after injury struck Cris and then Squillaci, 2006-07's first-choice pairing. So he adapted, and in so doing had a chance to assess the polyvalence of Bodmer, Belhadj, Keita and Réveillère… as well as getting a good look at youngsters Paillot, Mounier and Rémy. It was a chance to trial Hatem Ben Arfa on OL's famous left flank; a chance to see how the new 4-4-2 formation would work with a variety of players and to see that some parts of the team were already in top form, like the impeccable Coupet, Clerc and Källström… Toulalan picked up where he left off last season, full of energy and self-sacrifice (he picked up knocks in all 3 matches he played)… And how could one forget about the magnificent performances from Karim Benzema, chosen as the tournament's top player? The only blemish, despite his 2 goals, was a lack of sharpness in his finishing. Karim had 22 shots on goal, including 7 concrete chances and his 2 goals. OL did lack somewhat in the finishing department: 84 shots, 6 goals and 27 scoring chances!

There were some hiccups along the way, but on the whole the outcomes were very positive. It was a pure pleasure to watch the Olympiens play and get to know one another, to understand their game and tighten the machine… and to see what remains to happen in terms of the team's game and/or any new names coming to the club.