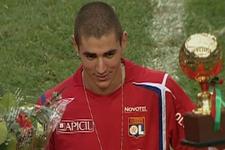 Karim Benzema was quite rightly chosen as the best player of the 2007 edition of the Peace Cup. The Lyonnais received the award thanks to a record of 2 goals and an assist.
Impressive in his ball skills and cool head, he was followed in the voting by Bolton's Finnish keeper Jaaskelainen, who received the Silver Ball, and Nicolas Anelka, recipient of the Bronze Ball.

The final between Bolton and OL finished such that Nicolas Anelka, Kevin Nolan and Karim Benzema didn't have a chance to share title of tournament top-scorer. On the other hand, Kim Källström made the most of his chances and ended equal top on the scorers charts with 2 goals.

There were six goal scorers in Peace Cup 2007: Chivas Guadalajara's Jesus Pardilla and Sergio Alejandro Santana Piedra, Bolton's Frenchman Nicolas Anelka his team-mate Kevin Nolan, Argentine Abelairas Matias from River Plate and Lyonnais Karim Benzema and Kim Källström.

The Swede also received the award for Best Player in the Final.