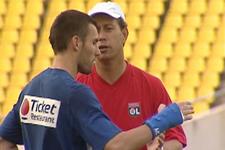 The Lyonnais trained in the city of Seongham. Traffic was such that they missed a reception at the Franco-Korean Chamber of Commerce…
Training

2 separate groups. The players who started against River Plate stayed at the hotel to work on their recuperation with Robert Duverne and 2 physios. So just 10 players made the trip: Rémy, Vercoutre, Fabio Santos, Keita, Réveillère, Grosso, Mounier, Wiltord, Paillot and Hartock. They were accompanied by Alain Perrin, Christophe Galtier, Joël Bats, Bruno Génésio, Abdel Redissi and 2 attendants. They worked in front of goal, played some practice matches and did some stretching.

Injuries

In the morning, Doc Amprino and physiotherapist Abdel Redissi went to Seoul's Catholic hospital. "We spent the morning here and managed to find what would appear to be a solution with the head of rehabilitation. We're going to put a plastic covering on the arm protectors tat Anthony and Kader were wearing. Also, Abdel will knock together a little something for Kader. If the referee doesn't accept it, then I don't know what's going on here." Doc added: "For Toulalan, it's he who will decide what level of pain he can take. Fabio Grosso is medically fit to play."

Alain Perrin

"It's a trip that has done us a lot of good, despite the difficulties involved. It's in difficulty that a squad comes together." That's our quote of the day.

[IMG42324#L]Bruno Génésio

"Bolton is like a tougher version of Reading. They really go hard at the second ball and they often go long. Their defensive bloc positions itself quickly, deeply, and in numbers. They have well-known players like Nolan, Speed, Cid, Meité… and a very talented player in Anelka. As for Davies, he is the target man with a strong headed game. This side is technically better than Reading."

Abdel Redissi

"I've never seen anything like it. We'll be playing just 43 hours after the end of the match against River Plate." Another quote of the day.

Recovery

How do you recover well after such a strenuous schedule? The Doc breaks it down. "First, a lot of rest with compresses. After the match, all the players see the physios for a natural drainage. In terms of food, they need low-GI, fibre and plenty of water. There's also the recovery for those who started with specific work. We hope that's enough, we've reinforced our usual habits. Bolton will undoubtedly have an advantage. We'll be on the razor's edge in terms of the climatic conditions. Mentality can make a big difference."

The return from Seongham was a living hell of 90 minutes stuck in traffic. The worst one so far!