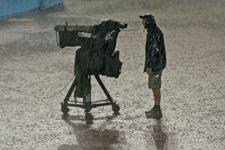 When they wake up, the Olympiens will probably want to go straight back to bed. It's bucketing down in Seoul. Let's hope the conditions will have changed before the match in Suwon kicks off…
Seoul has been transformed into a series of giant puddles covering the streets and footpaths… South Korea is heavily prone to monsoons that bring rain and high winds. The pitch will be well watered…

So OL will take on River Plate in Suwon tonight. Suwon, a city of 1 million people, situated 50km south of Seoul. The 2 sides will take the field at the home of Samsung, a side with a fierce reputation in Asia. Samsung electronics' principal manufacturing factories are situated in Suwon.

In the last edition of the Peace Cup, OL drew against PSV Eindhoven (goal from Malouda) in this same stadium. The players had to wait for several minutes on the pitch before they knew whether they had qualified for the final, which depended on the result of the match between Once Caldas and Seongham. Heo, the Korean in charge of OL's telecommunications, told Coupet and co that they would meet Tottenham in the final.

As in 2003 and 2005, OL can qualify with the result from the 3rd match. OL had 1 win and 1 loss after 2 matches in 2003. The French champion beat Seongham 1-0 in the important match. In 2005, OL had 1 draw and 1 win. They had to get the job done against PSV while keeping an eye on the Colombians. Third timer lucky? Let's hope so. The winner of group B will take on the Englishmen of Bolton.