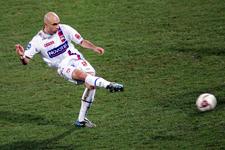 The squad has the morning off… MRI for Cris… video of River Plate's matches for the technical staff…
The Lyonnais will have had a bout 24 hours off hard training. And they've made the most of it, doing as they please, receiving treatment or discovering the city. Training is set for 17:00 this Wednesday evening.

Cris had an MRI in the morning. Accompanied by Doc Jean-Jacques Amprino, he returned to the hotel at 11:00. "He has a 2cm strain. You can see the part that hurts to the touch. He will receive treatment for 2 days and then he should be able to do some light work." The Brazilian was reassured, but he still looked a bit down. "The Peace Cup is over for me."

While the players were taking it easy, the staff worked from right after breakfast until 11:45. they watched River Plate's 2 matches so far in the Peace Cup. They are tougher than the last 2 sides OL has played, but within range of an in-form OL.