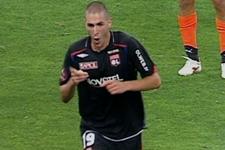 OL made the perfect start to Peace Cup 2007 in beating Japanese club Shimizu S-Pulse 2 goals to 0, with Karim Benzema and Anthony Mounier hitting the scoresheet. OL, now top of group B, will take on Reading on Monday.
While the cyclone threatening Busan, along with the long trip, hindered the Olympiens' preparations, the first match on their Asian jaunt would certainly have given Alain Perrin an accurate impression of the amount of work left to do before he has a fully prepared squad at his disposal. While he had to wait until the end of the game for his players to kill off the match, Alain Perrin saw his men defend well enough to keep a clean sheet and for defeat to never seem a possibility. Between solid defence and flowing attack sits the ideal; balance for Alain Perrin. In the first department, the OM manager would have been well pleased, and in the second, improvement will come with game time. At any rate, this second match confirmed the promising start made against Lille in Albertville.

The Peace Cup gives Alain Perrin a chance to iron out certain individual and collective questions to do with his side. First of all, his preferred formation. Even though it wasn't a definitive decision, the 4-4-2 starting line-up chosen by Perrin would seem to suggest that OL will change formation according to circumstances and opposition. Second, some of his players are already looking very sharp. In the eyes of many, 2007-08 will be Karim Benzema's year, whose first half was splendidly full of promise. After twice shooting over (6' and 19'), Benzema opened the score with a curling shot from the edge of the area (30'). And in the 40th and 69th minutes, he had 2 other chances to widen the gap.
After racking up an assist against Lille on Sunday, Anthony Mounier, subbed on in the 64th minute, announced himself as a scorer, unleashing a powerful shot after a dazzling turn on the edge of the area for OL's second.

The last important lesson for Alain Perrin was that, despite the departures of Eric Abidal, Jérémy Berthod and Tiago, OL's defence seems to be in very solid form. Fabio Grosso and Cris started on the bench but Belhadj and Paillot, who came on in the second half, along with Clerc, Squillaci and Müller, captain for the night, kept the Japanese strikers silent all match. In fact OL was rarely troubled, and only in the first half-hour. Early on, Yajima came close to taking the lead, rounding Coupet but failing to get past Toto Squillaci (1'). Yajima's 17th-minute shot hit the post and Fujimoto's 2 efforts both ended up in Coupet's gloves (17' and 33'). The final hour of the match was completely under the control of Jérémy Toulalan and co. Only Edamura came close, with an angled header in the 66th minute.

But not everything was perfect in the OL ranks – the 2-0 scoreline doesn't accurately reflect their domination of the match. Had they not wasted so many chances, OL could have racked up an impressive goal difference. But Squillaci (5'), Govou (15' and 62'), Baros (53' and 72'), Toulalan (58') and Mounier (65') all failed to hit the target. And after a jinking run in the area, Hatem Ben Arfa failed to get around Nishibe (55'). Milan Baros again failed to widen the gap, firing wide from the penalty spot in the 79th minute.

2-0, "the perfect score" as round-ball pundits would say. But Alain Perrin will no doubt see plenty of room for improvement in his side's performance. For their first match of Peace Cup 2007, his men effected a combination of pragmatism and promise. Next match: against Reading on Monday.