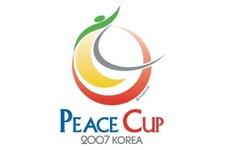 For the 3rd time, OL will take part in the Peace Cup. Having twice reached the final already, the Lyonnais have come to South Korea above all to work on their individual and collective preparation. 10 members of the OL squad have played in this competition before…
There are only 4 Olympiens in the 2007-08 squad who played in the 2 previous editions of this competition: Coupet, Vercoutre, Réveillère and Govou. 6 others have played here once before: Hartock, Clerc, Wiltord, Benzema, Müller and Cris. For Squillaci, Grosso, Belhadj, Toulalan, Bodmer, Källström, Keita, Baros, Diarra, Paillot, Remy and Mounier… it's a time of discovery.

Among the 23 players present, 16 are internationals, notably Fabio Grosso, who will be the only reigning world champion in the competition, like Edmilson was in his time (2003). These 24 players represent 8 different countries. Sylvain Wiltord should hook up with the squad in Seoul on Sunday.

As for the staff, this 3rd edition of the Peace Cup sees OL's 3rd different coaching set-up. After Paul Le Guen/Yves Colleu (2003, 1-0 loss to PSV in the final) there was Gérard Houllier/Patrice Bergues (2005, 3-1 loss to Tottenham in the final) and now it's a chance for the Alain Perrin/Christophe Galtier pairing to show what it can do.

OL's competition will kick off on Thursday against Japanese club Shimizu, before they take on the Reading Royals, who just secured a mid-table finish their first season in the English top flight. The 3rd match will pit Coupet and co against the Millonarios of River Plate, an Argentine institution boasting a massive 32 national titles as well as an Intercontinental Cup and 2 Copa Libertadores. Some football legends have worn the celebrated black, red and white outfit: Di Stefano, Sivori, Francescoli, Passarella, Caniggia, Batistuta, Ayala, Ortega, Gallardo…

At first glance, it seems OL shouldn't be too hard pressed to reach the final once again, but at the same time it may not be so straightforward, considering that the new OL squad is still in the thick of its pre-season preparations and will be without the services of Fred and Juninho. Not to mention the climatic conditions, which are always tough in terms of fitness. As soon as you get off the plane, the humidity level saps your strength, already at a low after the long flight and the 7 hours of jetlag. But there's no time to complain, the Peace Cup is a rapid-fire affair, with finalists squeezing 4 matches into just 11 or 12 days.