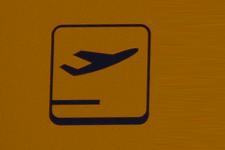 The Olympique Lyonnais players left the Tola Vologe training centre at 12:45 for Lyon's Saint-Exupéry airport, where they would catch a flight for Frankfurt and then Seoul, where they would arrive 20 hours later.
At 13:21, as is his wont,
Grégory Coupet
got off the bus first. The international keeper was visibly pleased with the idea of taking part in his third Korean training camp. One by one, in official suits (and for
Karim Benzema
, headphones), the Olympiens filed into terminal 1. Their President Jean-Michel Aulas was waiting for them, as was Barth, the host of OLTV. "It's my first trip to Asia," enthused
Loïc Rémy
.
The passengers in the terminal got their fill of autographs and photos.
Boarding was delayed by almost 45 minutes. At 13:57,
Alou Diarra
, running late, found Guy Genet and Olivier Blanc and they took their places on the plane.
The Lyonnais will return to the Gallic capital in 11 days, after the Peace Cup, in which they will take on Shimizu S. Pulse, Reading and River Plate…
[IMG42255#C]
The new kits are available as of July 16. Order your 2007-08 kit by clicking here.