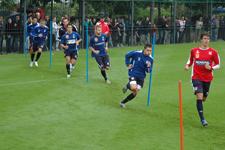 After a week of training at altitude in Tignes, the Olympiens returned to Tola Vologe this morning for a long session in the rain. 25 players were present, with only Fred, injured, missing the call. Fabio Grosso took the field with OL for the very first time.
After two laps, the Olympiens did some physical work under the stopwatch of Robert Duverne. There were three workshops on the menu: volleys, slaloms and sprints.
After warming up with some passing, the outfield players worked on placement and circulation of the ball while the keepers did some specific work with Joël Bats.
Divided into 4 teams, the squad then did some ball-retention exercises.
Jérémy Toulalan had a scare when he crashed into the protection bar, but the midfielder only suffered a few light scratches.
The session finished with a match and some stretching.
All the players will return this afternoon for another session. After a final session tomorrow at 9:30, they will head off for Korea. [IMG42249#C]
---
The new kits are available. Order your 2007-08 kit by clicking here.