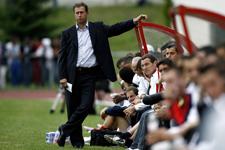 The day before the OL squad is set to depart for South Korea, manager Alain Perrin had a few things to say, including Fred's injury, the training camp in South Korea, Fabio Grosso's form and the captaincy.
How did you find the squad this morning?
They're responding really well, with a lot of concentration on their work. I'm very happy with the way the group is coming together, there's a real freshness among them. Against Lille on Sunday, I got what I was looking for – desire. It's not perfect yet but the intentions are positive and the atmosphere is great in the locker room. We're working physically, tactically and technically.
A word on the training camp in South Korea…
In going to Korea, we're getting into the thick of it; we're taking things to the next level. We'll put the finishing touches on our tactical and physical plans. Right now, we have a double problem to do with individual and collective game time. I want to rotate the squad to give everyone some time on the field, but that makes it tough to establish a starting XI.
Do you have an idea of the tactical framework that you intend to use?
As I told the players, I don't believe you have to stick to one system. I don't have a fixed position. In varying our system, we can harness the element of surprise. It's the players who give the colour to any tactical framework. The goal is to find a balance.
Do you have any news about Fred?
I think he's getting married today. We're trying to find out more about his injury and whether he will need surgery. If that is the case, I think we'll need to recruit another attacker. We'll be obliged to. I have some back-up plans to cover absences in attack, but then we'll have another problem: if we're to play 4-4-2, we'll need another attacker.
[IMG42250#R]
In what kind of form is Fabio Grosso, who took part in his first training session with the squad today?
He'll be handled differently this afternoon, we need to tailor a program for him. He can also play in the centre of defence.
Have you given further thought to who will be OL captain this season?
Things have progressed somewhat but the answer isn't exactly hitting us over the head. Cris is a popular choice among his team-mates but he isn't too thrilled by the idea. The names of Sidney Govou and Toto Squillaci have also been put forward. I don't want it to be a goalkeeper because I think the role should go to a player who is in the thick of things, at the heart of the game, so he can really take on the administrative and media-related aspects of the job. Personally, my preference goes to Cris, who is a real combat leader.
---
The new kits are available as of July 16. Order your 2007-08 kit by clicking here.