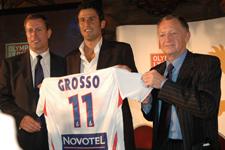 The irony: a year to the day after Italy beat France in the World Cup final, the man who took the winning penalty shot is presented to the press. The good news for the French champions and their fans: he already speaks French.
Fabio Grosso has signed a 4-year contract with Olympique Lyonnais. He joins the sextuple French champions for €7.5m from Inter Milan.
What did you know about Olympique Lyonnais before you signed?
A fair bit, because Olympique Lyonnais is a big club on a European level. Also, I've played against some of the players before. I know that President Aulas is very ambitious. In the future, it will be even tougher to beat OL. I'm really happy to have come here to this great club that is always looking onward and upward.
What spurred you on to leave Inter Milan?
OL's offer, its reputation, its potential and the lure of Champions League football. Also, the club is very ambitious.
How would you sum up your last year at Inter Milan?
I think it went well. After a gap of many years, we won the Scudetto and the Italian Supercup. I'm also very satisfied with my own performance last season.
[IMG42241#R]
Did you ask advice from Patrick Vieira or Olivier Dacourt?
Yes. They confirmed what I already knew: I was going to join an excellent club. They urged me to sign.
Do you fear the cold shoulder from the French public after your victory in the World Cup final?
No. Absolutely not. I did my duty for Italy; now I will do the same for my club. I will do everything I can to make sure there isn't; the slightest animosity.
You take free kicks pretty well. Will you ask Juninho to let you take them?
No. He has an excellent shot. He'll have priority over me and all the other players.
What do you think of the French league?
It's a really good league. I've been following it. I know there are excellent players and some really good teams.
See Fabio Grosso's file