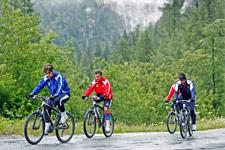 The snow and the black ice on the forbidding Col de l'Iseran accompanied the Olympiens to the Bréviaires way station for the bike climb at Tignes.
It was 10:30 and a chilly 3 degrees when the OL retinue turned up at the Bréviaires way station where 32 mountain bikes were impatiently waiting riders. The challenge? Ride back to the hotel 8 kilometres 8km away. Each at his own pace.

Kader Keita couldn't follow the others due to a recent operation on his left shoulder that meant he couldn't stress the joint for such a long period of time. He covered the last 4km on foot along with Patrick Perret.

After a quick tyre, brake and chain check and a few laps of the parking lot, the OL squad threw itself into the challenge. The course featured 8% cross-country riding before regaining the asphalt and the first few km were taken prudently and there were no injuries. For Hatem Ben Arfa, it was the last 2 km that really hurt: "It's not really the fatigue that scares me, but the fact that I couldn't see the end. The Col de l'Iseran is easier because you can manage the trip from beginning to end, you can see what's ahead. Today, with the change of plans, we've had to be very careful. The last part of the course was so long… but the finish line was sweet."

A little less than an hour for the fastest… an hour and 10 minutes for the less fleet of wheel. "I did it!" cried Sylvain Wiltord as he crossed the line. "I almost died, but I did it," he kept repeating to his team-mates, well-satisfied with his huge effort. "The end was really tough," noted Karim Benzema, who had an excellent climb. Very tough, with a long and winding course, cold weather, wet roads and water spraying everywhere, a frozen face and a mist that reduces visibility immensely… all these factors stood in their way but they were "twice as happy when we reached the end," Benzema emphasised as he got off the bike, all smiles. As for Joan Hartock, he couldn't feel his legs any more but was "happy to have done it".

Robert Duverne took stock at the finishing point, stopwatch in hand: "This course is shorter than the Col de l'Iseran, but much more interesting. The conditions weren't easy but everyone made it here without a scratch. Bravo to everyone."

This afternoon, it'll be an upper body workout: after lunch, Les Gones will be thrown into a rafting exercise.
< br> [IMG42226#C]
Juninho leads the way. Listening to music, headphones stuck to his ears. He is accompanied by Christophe Galtier, Joël Bats and Joan Hartock. Fabio Santos, Grégory Coupet, Cris and Alou Diarra also had their headphones on.

[IMG42227#C]
Each to his own pace, his own method. After a few kilometres at a relaxed pace, Karim Benzema broke away from the peloton and attacked the mountain. On the right, Clerc, Baros, Toulalan, Bettiol and further back Rémy rode in a pack, single file.

[IMG42228#C]
On the other side, Rémy Vercoutre suffered musically. "I think a lot when I'm pedalling, to keep my mind off the ride and to maintain a certain rhythm. I think about my son, Romeo and my little girl who will be born soon." Wiltord does some mechanical improvisations after losing his chain. Belhadj made good progress, slow and steady.

[IMG42229#C]
In the mist, François Clerc and Milan Baros climbed relentlessly. Anthony Réveillère, Rémy Vercoutre and Hatem Ben Arfa, expended their efforts prudently.

[IMG42230#C]
Alain Perrin awaited his troops near the finish line, encouraging and congratulating each player in turn.