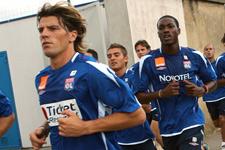 Is it really July? That's what Grégory Coupet asked himself when he looked out the window in the morning. Mountains white with snow were rather forbidding and the temperature had fallen to near zero in the night. Anyone for a spot of biking?
Greg, nice weather for July, isn't it?
We've been really spoiled (laughs). Still, we're in good shape and the tough weather brings us closer. We eat together, we train together, we hang out… We make sacrifices for each other at training, we joke around… it's a really lively training camp. If you can ignore the snow, the year is getting off to a really good start. And also, each player's strengths, as well as the quality of the team, come to the fore.


How is training going?
The exercises are very animated. The coaches have put the necessary enthusiasm into their preparations so the sessions are very interesting and fun. Despite this, there is nothing fun about the Col de l'Iseran. Cycling isn't my thing. I don't have a cyclist's physique and I'm not interested in getting one. But the mental aspect of it is very interesting, and also there is nothing like a huge challenge such as this to pull a squad together.

Abidal and Tiago aren't there any more… Malouda could leave. What is the feeling for the coming season?
Some great players have left. It's been a few years now that I've seen them come and go, I'm not afraid of change. Personally, I'm going to dig deep and give it my all to repay the confidence that President Jean-Michel Aulas and manager Alain Perrin showed in me when I extended my contract.

And you're still chasing the Champions League title…
We've come pretty close to the semi-finals against PSV and AC Milan in the past few years. In this competition, my first goal is to get past the quarter-finals… and after that, we'll see. Our team is in a rebuilding phase, with a quite a task ahead, considering the departure of several internationals. But a warning – we're not "under construction", we're just adding a few new elements and re-establishing our lines of communication. We're still going to give any team hell when they come to Gerland, we're going to push the limits and go for a 7th title. We just have to make this small transition.

Do you still not want to wear the captain's armband?
Juninho is a good captain… and also, I don't need to wear the armband to be the person I am.