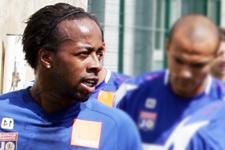 Sidney Govou expressed his thoughts on several subjects before lunch: Tignes, Juninho, transfers, Keita…
JUNINHO
The incident is over. On the first day, he and I talked with the manager, and it went very well. I had some things to say to him and I made the mistake of doing so through the press, because it made a lot of noise, which I didn't want. My words may have seemed strong but it wasn't a personal attack.
I had to get it off my chest without pointing the finger at anyone before it gave me an ulcer. I did it in the interests of the coming season, after having a rough time last year. The naysayers have been the cause of my troubles for the last 6 months. On that level, we understood each other well.

TRANSFERS
My departure? What departure? I said I wanted to stay. My agent told me about interest from Atletico Madrid, but that's it. The transfers of Tiago and Abidal, that's just how football is. It's good for them. If Malouda goes, OL will have lost the world's best left flank, but there are others waiting in the wings.

The arrival of Keita is also a part of football. There is always competition for places, it's not a new thing for me. We'll do our best t play well and the coach will try to get the best out of us. With Nino, even though we're good friends off the pitch, we're always in competition for a starting place on the pitch.

8 YEARS AT THE CLUB
I'm 28 and I can discover other things after football… I have a lot to lose if I leave. I feel good here, I have responsibilities, I know the club well, the players and the style of play as well…and the Euros aren't far off. I'm not tired of being at OL, I don't resent the routine. Each season is different, with new players and managers and regimes.

TIGNES
The camp is going well. The toughest is yet to come though, tomorrow, with Mt Iseran. Riding bikes isn't really my thing. I'm not worried if it keeps on snowing.