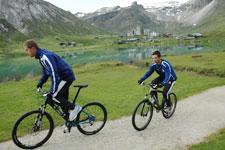 The OL squad assembled early in the morning in front of the hotel for an early-morning run around the lake. In the crisp early morning, more than 30 figures made their way around the lake.
Getting up was tougher for some than others – Juninho had had to exchange the beaches in Brazil for a tracksuit and beanie, in Tignes. This morning at 07:30, Robert Duverne repeated a few words of sage fitness advice before the squad took off around the lake.

Rémy Vercoutre was already smiling, surely the product of the MP3 player in his pocket and the buds in his ears, which made the half-hour run pass by easily for the goalkeeper. It was the same for the two Gregs, Bettiol & Coupet, who did 3 laps of the lake at breakneck speed. Kader Keita took to walking, as did Doc Amprino and Robert Duverne. "We're not acclimatised to Tignes yet," he said, not making excuses, before continuing, "some player lose a lot of form, others hardly any. The internationals, for example, haven't had a full holiday, playing more recently than the rest, and as such they are in better shape. We'll get suck into our preparation today with half an hour on the bikes and then an endurance session at 11:00." It's time to get serious.

[IMG42206#C]
Robert Duverne gave some advice before the run around the lake. Gregs Bettiol and Coupet are here followed by Jérémy Toulalan at breakneck speed. A bit further back, François Clerc and Jérémy Berthod find their rhythm.

[IMG42207#C]
Juninho as usual is jet-lagged as well as affected by the change in temperature. Kim Källström and Joan Hartock have also chosen to wear beanies. Karim Benzema and Nadir Belhadj are followed by young players on the way back.