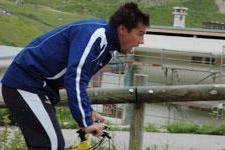 This afternoon Milan Baros had an MRI that showed only a slight inflammation of the plantar fascia. He has returned to Tignes and is as happy at the club as he has ever been. There is no question of his leaving Olympique Lyonnais.
Contrary to what has been written recently about the Czech international, Milan Baros is on the road back to Tignes to rejoin the OL squad in their training camp.
In the company of an OL press attaché, Milan Baros should arrive at Tignes in the early evening.