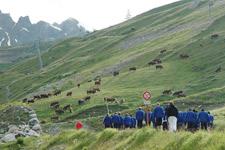 Around 14:30, 28 Lyonnais, along with the technical staff, hit the road for Tignes and the "Village Montana Hôtel", where they arrived at 18:00.
An hour later, the players and staff went for a breath of fresh air before going for their first run. "It was tough… for me, anyway," commented Christophe Galtier when he finished. "It gets the blood pumping." Doc Amprino was very pleased; Joël Bats out of breath; Robert Duverne was red in the face and Abdel Redissi was all smiles. He was taking bets on who would be voted "Best trainer" on the training camp. And, contrary to expectations, this man could one of the staff…

It's only 15 degrees, the clouds are quickly darkening the dunes and you can smell the rain, But it doesn't fall. It's 20:00 when Alain Perrin and Barth tune into the first episode of OL SYSTEM for the season. Deeper in the hotel, a hearty meal wafts its odours around, signalling dinner time, not a minute to soon. But the lads can't sleep in: rendez-vous for 07:00 tomorrow morning for an early-morning running session. The holidays are a long way off!