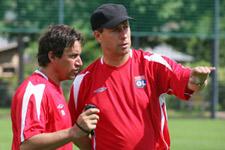 On Monday July 2 2007 has been earmarked for the return of the Olympiens to Tola Vologe. OL's new manager and his players did a meet and greet before packing their bags for Tignes.
The first training session of the season was a chance for new recruits Belhadj, Keita and Bodmer to meet the OL squad, get settled in and find their place… Belhadj finds himself next to Cris. The 2 ex-Lille players have been placed next to Coupet. And in front of Eric Abidal's vacated locker, Wiltord, Govou and Benzema joking, "
We've never seen him juggle before, but now that he's signed for Barça, you see him juggling in front the cameras, on the pitch at the Nou Camp
".
For President Jean-Michel
Aulas
, it was also the day for "
the beginning of a new adventure, and I hope it will be at least as successful as its predecessors, maybe even better.
" (
read article
)
And this is talk that new Olympien
Mathieu Bodmer
likes the sound of. "
It's really different from what I was used to at LOSC. But that's normal, there is a lot more ambition and means in what President Jean-Michel Aulas says.
" The midfielder, who is used to training camps at LOSC, hopes to integrate himself in to the squad very quickly. "
I couldn't wait to meet my new team-mates. The training camp is great for getting to know each other, forming a unit. I know it'll be tough at first, but you have to get through that to get to been in a good position for the coming season. And faced with a common challenge, friendships develop.
"
[IMG42203#R]It was also a special day for new manager
Alain Perrin
, who finally has his whole squad together, with the exception of Fred, who picked up an injury in the Copa America (fracture of the 5th metatarsal). A welcoming address, a training session and a press conference before leaving for Tignes – a busy first day. Journalists brought up various points: "
What about recruitment? It's the start of July, the timing doesn't really correspond with other leagues. Take England for example, where the clubs buy much later. Anyway, things should be clearer at the end of this week. Florent Malouda ? He was there this morning. He expressed a desire to leave, and if we have to lose our international left side, we won't be completely lost because I truly believe that Hatem Ben Arfa is a young man to watch. You have to remember that when they came to OL, Malouda and Abidal hadn't been called up to the national team. As for Sylvain Wiltord, there have been offers from other clubs that would allow him more game time than he enjoys here. That counts a lot for a player nearing the end of his career. Alou Diarra wasn't happy with his game time last season. There will still be competition for positions this season. There are a couple of players in England at the moment over whom we are in discussions and who would be offered starting places… but patience.

As for our new arrivals, my preference is for Armand to replace Abidal on the left flank. He knows the league well and he can play in various roles. Inter Milan player Fabio Grosso is another player we are following.
" Departures, arrivals… OL's formation could blown out of the water. "
I want to put the players in the best possible position. We could start the season playing 4-3-3 and then move onto a 4-2-3-1.
"
[IMG42204#L]Finally, before heading to Tignes, the manager spoke about the atmosphere in the dressing rooms. "
We lost some important players, important figures in the dressing room like Abidal and Tiago. But you reset the counter every season and the new recruits reinforce us on the pitch but also in the dressing room. I'm not under any particular pressure. I'm doing my job, that's all.
"