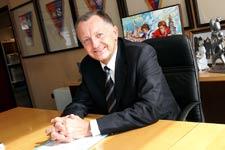 Jean-Michel Aulas was at Tola Vologe this morning to welcome the players back from their holidays and to hold discussions with the technical staff. The President also took the time to give an update on the club's activities.
So, regular service has been resumed?
Service, I don't know, but OL is back from holidays! We have some happy players because they were on holidays longer than the others. I think they will have better tans, like Anthony (Réveillère) who just got back and is considerably bronzed (laughs). But we're very happy, today is the beginning of a new adventure, and I hope it will be at least as successful as its predecessors, maybe even better, at least that's what we've been aiming for.

Is the main objective still the French title, which would be your 7th?
A 7th title will be tough but that's what we're aiming for, top 3 at the least, for the Champions League, as well as doing well in the cups. We were very closes to winning a cup last season, and the cups are important, be they national or European. We will try to pull ourselves even closer to the level of the biggest clubs, like Barcelona, Real, Chelsea and Manchester United, even though they enjoy much more plentiful resources than we do. That said, we have shown over the last 20 years that despite a resource deficit in relation to these great clubs, that with intelligence, restraint, perspicacity and some bright ideas, we can take on the big European sides.

The squad isn't quite yet finalised, what is the current state of the departures and arrivals?
Obviously the squad isn't complete yet. There are players who want to leave, and if the right offer comes in, we'll listen. That said, nothing is definite and also there have been some players who thought they would leave but who in fact won't, so there will be some continuity in the squad. But, like every year, we'll make the necessary adjustments.

Sylvain Armand has said he wants to join OL. What is your position?
Yes, I spoke to him the other day. To date, PSG hasn't wanted to open full negotiations, but we'll do so as soon as they players return from holidays. It's Alain Perrin's priority. We have two other deals in progress, which are at a very high level. The thing to keep in mind is that every time a player wants to leave OL, their replacement must be at least as good a player if not better.

Will Florent Malouda stay at OL?
I spoke to him tonight, he will be arriving soon. He is calm and very happy to come back even though he is a bit disappointed by the clubs that were looking to sign him throughout the holidays. We will help him to leave if the offer is up to scratch. If there are no offers, he will stay. To have Malouda, Ben Arfa, Källström and Belhadj isn't bad at all, especially considering that on the right we'll have Keita, Wiltord and Govou as well as Clerc, who can play in a different role when we play 4-4-2.

What about Alou Diarra?
I'm really happy to have seen Alou this morning at training even though he has made it clear he wants to leave the club.

Can you talk to us about the Italian Grosso, whose name has been popping up these last few days?
Yes, he is one of the players we are currently interested in. He is a reigning World Champion. A World Cup finalist leaves (Abidal) and a World Champion could arrive. It's proof that Lyon interests the best players.

What's the story on the pursuit of Jérôme Rothen ?
For the moment we're not after Rothen because Malouda is still here and will go to the training camp in Tignes with the rest of the squad. We were also after Robben, he was mentioned when we had some discussions with Chelsea, but for the moment, we're not chasing his signature.

Concerning Sylvain Wiltord, is there any news from Marseille?
Not from the juridical commission… apparently they contacted our player without notifying us. I think they did what they got upset with us about last year concerning Franck Ribéry. That said, I spoke to Sylvain for some time on the phone last night and there is no problem, he is happy to resume training this morning and go to Tignes with the squad.

What happened this morning with Sylvain Wiltord (being called into the police station) doesn't seem too good for the club's image…
That's true. I wasn't alerted because I was in a meeting with the technical staff but it's true this kind of thing is negative for Sylvain first and foremost. AS he is one of OL's best and a national team regular, there is intense media scrutiny of him as he is expected to be a role model, which I think is unfortunate. This kind of thing doesn't stop big clubs from winning trophies, but it is disagreeable. Here at Lyon we try to have the cleanest image we can, but this isn't a footballing matter, it is about driving with excessive speed, although I don't have all the details. He will be able to tell you himself when he returns from Tignes.

Is this another chapter in the Wiltord File?
No, there is no file. Let's just say that a couple of times, Sylvain fell short of the club's high expectations in terms of conduct and was sanctioned. He still has a year left on his contract, and if I understood him correctly on the phone, he will see the year out here at Lyon.