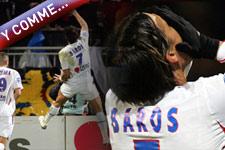 The summer break will be punctuated by one letter and one word per day. Today's instalment is brought to you by… the letter Y… it makes you rack your brains.
Let's start by looking in the dictionary. Yoghurt, nothing to do with OL. Yankee, that's baseball. Yard, a word that could make you think of football, but the American kind. Yacht, a small relation to the round ball, but only because luxury boats could remind one of Roman Abramovich, owner of Chelsea, not of OL.

The minutes pass and inspiration is still nowhere to be found. Yen, that's Japanese money, but no luck, the Peace Cup is in Korea and China. Yay, enthusiastic cry accompanied by exuberant gestures. That evokes images of joy at an OL goal, like Tiago's against St-Etienne. But it's a bit of a long bow to pull.

The rapidly approaching end of the dictionary provokes despair as only terrible ideas are coming. Yurt, a nomadic tent. Nothing. But then, "Yoyo". To be like a yoyo is to go up and down in succession, and it's part of the lexicon of footballspeak. Anyway there is no other choice – Yoyo it is! It describes well what happened to OL this season. Not in the sporting sense, because once again OL was head and shoulders above the competition, leading the league for 34 of the 38 rounds. It's more on the emotional front that Lyon was yoyo-like. The season was full of highs and lows and magical moments, like the matches against Real Madrid, the derbies, the huge win at the Vélodrome, etc… and not so magical moments, like the cruel elimination from the Coupe de France, the loss at the Stade de France and the failure against AS Roma. Tough times for the supporters, sure, but such moments help to make the game as beautiful as it is.