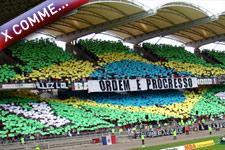 The summer break will be punctuated by one letter and one word per day. Today's instalment is brought to you by… the letter X… for Xenophilia
Xenophilia? It means liking foreigners. No problems here, they're very welcome at OL. This season the Czech Milan Baros, the Swede Kim Källström and the Brazilian Fabio Santos arrived at the club, joining Brazilians Juninho, Cris, Cacapa and Fred, the Portuguese Tiago and the Swiss Müller. While in the other direction, the Norwegian Carew, the Malian Diarra and the Cameroonian Diatta left the club for England, Spain… or even for our green neighbours.

Fabio Santos became the 11th Brazilian to sign for OL after Constantino, Marcelo, Anderson, Edmilson, Cacapa, Juninho, Elber, Nilmar, Cris and Fred. There was a real X about him, too, his reputation being confined to his homeland. As for the Czech Baros, he was preceded in 1968 and 1970 by another international: Popluhar. This defender was a losing finalist against Brazil (3-1) in the 1962 World Cup in Chile. Kim Källström is the first Swede at OL.