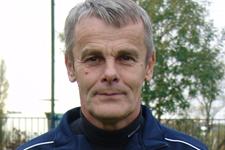 The summer break will be punctuated by one letter and one word per day. Today's instalment is brought to you by… the letter V… for Valette!
Robert Valette, OL reserve team manager, has run the gamut of emotions during season 2006-07. Indeed, OL's CFA side was inconsistent until the middle of the season and was at some points in danger of relegation. It wasn't until January that captain Mourad Benhamida and his side went 12 matches without a loss, a dream run that saw them finish the season with a respectable 5th-place finish – qualifying them for the finals phase of the professional reserves competition. The season over, manager Robert Valette gave his team credit where he felt credit was due: "We had a great start to 2007 with a squad that was on the brink of imploding. But at some point, everyone rolled up their sleeves, and then… the more you eat, the hungrier you get…"

Unfortunately not everything went OL's way at the end of the season. They will have to contest the finals phase, which begins with the visit of Bordeaux, without top scorers Gregory Bettiol and Loïc Rémy, without utility player Anthony Mounier and without central defenders Sandy Paillot and Mourad Benhamida. But Robert Valette isn't worried. The night before the semi-final, he said "11 against 11 and well-prepared, I'm not scared of anyone". The OL player from the club's 70s heyday knew the match against Bordeaux would play out on the smallest details – it ended with a penalty shootout after regular times finished equal at 2-2. Joan Hartock proved decisive, saving 2 penalties and seeing OL through to the final.

The final of the professional reserves competition pitted OL against Rennes, who they beat 3-1 last year at the same stage of the same competition. Unfortunately the Bretons won out this time, also with a 3-1 scoreline. This match marked the end of a generation for the OL reserves, as certain players (Idangard, Chaffard, Brugnot, Benhamida and Faussurier) will move on to try their luck elsewhere. Robert Valette: "I would have liked them to leave having just won the title. That didn't happen but I wish them all the best and urge them to keep working as hard as they did this season".