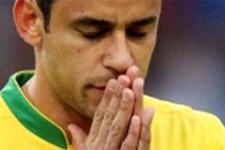 Fred in the Copa America… OL resumes training in a few days… the 6-time French champions will soon resume their normal activities. And there's the transfer action as well…
Fred the Brazilian won't be in attendance for the resumption of training on July 2 because… he's taking part in the 42nd Copa America, which is being held in Venezuela. The Selecao is in group B along with Chile, Mexico and Ecuador. By finishing 1st or 2nd in the group, or by being one of the 2 best 3rd-placed sides, Dunga's men will qualify for the quarter-finals (July 7 or 8). The semi-finals will be held on July 10 and 11 with the finals on July 14 and 15. If everything goes to plan, Brazil should meet Argentina in the final. Fred will rejoin the OL squad in Korea but risks missing the match against Shimizu (13/07) and possibly the match against Reading (16/07).

OL resumes training on July 2. They will as usual head for Tignes for the habitual training camp (July 3-7) before taking on Lille in a friendly on July 8 before heading off for Korea on the 11th.

In terms of arrivals and departures, Claudio Cacapa, Mourad Benhamida, Gérard Houllier and Patrice Bergues have officially left the club. The club's signing off on the transfer of Tiago to Juventus is imminent. Arrivals include Mathieu Bodmer, Kader Keita and Nadir Belhadj, who was signed in January but who finished the season at Sedan. Oh, Alain Perrin and Christophe Galtier also arrived at the club.

There is a lot of time left for other transfers before the end of August. In 2006-2007, Benoît Pedretti, Pierre-Alain Frau and Mahamadou Diarra left during August. "Djila" even played 3 official matches with OL. Alou Diarra joined the 6-time French champions after the Malian left. In 2005-2006, Nilmar and Essien left in August and Tiago and Fred arrived shortly afterwards. In 2004-2005, Florent Balmont and Julien Viale left in August after playing 2 or 3 matches, while Cris, Wiltord, Nilmar and Diatta arrived during the same period.