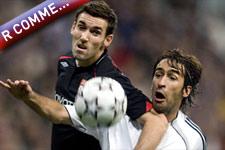 The summer break will be punctuated by one letter and one word per day. Today's instalment is brought to you by… the letter R… for Réveillère, Real Madrid… and resurgence
The story of Olympique Lyonnais and Anthony Réveillère is a few seasons old now… The player came to OL in 2003 after a brief stint with FC Valencia in Spain and quickly conquered his new scenario. Notably, his manager, Paul Le Guen, who had strongly insisted on bringing him back to France. The former Rennes player quickly found his feet, even scoring a goal for his new club at the beginning of the season (September 27, 20003, when OL beat Lens 4-0).
After 4 seasons in the red and blue, "Antho" decided to stay on again with the 6-time French champions. On May 28, he signed a new 4-year contract, which will see him linked to the club until 2011. "It meant a lot to me. I had an agreement with the club president. My choice had been made for some time. When you play at Lyon, you always have offers from other clubs, but OL is the best French club and one of the best in Europe," declared the polyvalent defender who can play on either side of the defence.

R for… Real Madrid. In 2005, OL caused a sensation by crushing Real Madrid 3-0 at Gerland and then securing a 1-1 draw at the Santiago Bernabeu in the return leg. This season, the draw once again paired the 2 clubs up. The only difference was that "Djila" Diarra had changed shirts, going from Lyon to Madrid. But that changed nothing. [IMG40607#R]OL played a fantastic match at Gerland, winning 2-0 through strikes from Fred and Tiago. The return leg was also spectacular – OL went ahead through Carew and Florent Malouda, but then conceded goals from Diarra and Van Nistelrooy. Grégory Coupet even saved a penalty late on in the match… the match fulfilled expectations in true Champions League style!

R for… resurgence. This season, the Lyonnais have received much praise for being able to come back from the brink of defeat, no matter how hopeless the situation. Trophée des champions, the league, the cups… OL managed to make a late resurgence on numerous occasions. 12 times in total. Even after falling behind, Lyon managed to claw back to take the 3 points on 8 occasions and to snatch a draw on 4. Most spectacularly. For certain, was the draw against Sochaux. OL, behind 3-1 in the 86th minute, managed to equalise in the dying second of stoppage time.