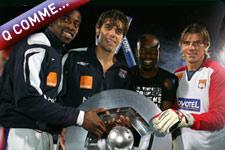 The summer break will be punctuated by one letter and one word per day. Today's instalment is brought to you by… the letter Q… for Quartet
There are 4 players who were part of every title the club has won… Claudio Caçapa, Juninho, Sidney Govou and Grégory Coupet.
Club stalwarts, they witnessed the club grow in power under Jean-Michel Aulas and were there on May 4, 2002, for OL's first-ever French title, secured against RC Lens at Gerland. Here we take a look at OL's four musketeers.

Claudio Caçapa arrived in the winter break of 2001. His 6 and a half seasons were crowned with 6 French championship titles, 1 Coupe de la Ligue title, in 2001, and 3 Trophées des Champions titles (2004, 2005, 2006). Coming from Atletico Mineiro, the Franco-Brazilian defender played 116 L1 matches, scoring 7 league goals for Lyon. His journey at OL was a winning time.

Grégory Coupet replaced Pascal Olmeta on the fly in the winter of 1997. The France keeper made the switch from AS Saint-Etienne. After carving out a niche in the Olympien squad, Coupet quickly cemented his spot in the starting line-up of the future French champions. He has been part of all the titles of the Aulas era, including 6 Ligue 1 titles, the Coupe de la Ligue in 2001 and several Trophées des Champions. After 14 seasons as a professional, Coupet has played 417 matches in L1, 351 of which have been in the OL shirt. He is already a legendary figure at OL.

Sidney Govou is like Grégory Coupet a native of Puy en Haute-Loire. He came OL at a youth level and took little time to make it to the pro team. With a brace in the Coupe de France against Red Star and a couple of rockets against Lens in 2002 and Bayern Munich in OL's historic Champions League victory, Govou has left his mark on OL. 28 at the end of July, he played 28 L1 matches this season and scored one goal, against RC Lens. He has six titles, 1 Coupe de la Ligue and 2 Trophées des Champions as well as finalist medals from the World Cup and the Confederations Cup.

Juninho can without doubt be qualified as OL's good luck charm. His arrival in France from Vasco da Gama coincided with OL's first French title. Since then, OL has a perfect league record, to which Juninho has made an enormous contribution.