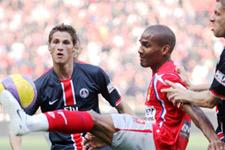 The summer break will be punctuated by one letter and one word per day. Today's instalment is brought to you by… the letter P for… Performance
P… for Paris, the capital, Paris who came close to being relegated to Ligue 2 several times. Happily for French football, the Parisiens stayed up and have acquired, after the relegation of Nantes, the title of longest-serving L1 team.
Why this talk of Paris? PSG popped up several times during the Olympiens' season.

Firstly, Paris wasn't the place this season where Lyon officially became champions. The only similarity with last season is that the title was made official in a hotel, but this year in Auxerre.
Paris or more exactly Paris St Germain, provided OL with 3 suspenseful matches this season.
The first was in the last 16 of the Coupe de la Ligue, when Lyon waited until the 90th minute to score the winner. In the league, the match in Paris lived up to expectations. PSG opened the scoring, but like in the Coupe de la Ligue, OL, or rather Juninho, equalised in the 94th minute.
P… for Paul… Paul Le Guen, OL manager, from 2002 to 2005, who won 3 titles. Paul Le Guen, who leads the conversation back to PSG once more. The Breton took charge of the capital club and signed two former Lyonnais: Peggy Luyindula and Jérémy Clément.

Now it's off overseas for another P… for Portugal, homeland of Tiago, the father of 2, who scored a superb lob against St Etienne at the Geoffroy Guichard.

P… for points, Olympique Lyonnais won the title with a total of 81 points, 17 ahead of 2nd-placed Marseille. Last season OL won with 84 points accrued, an L1 record.

P… for performance: This year's performance brought OL a 6th consecutive French title, something no other French club has ever done. In fact, no other club from a major European league has done it before, be it England, Italy, Germany or Spain.